Rave Reviews for Michelle Pfeiffer's Performance in "French Exit"!
After the February limited release  in New York & L.A. and the April 2 national release in the US, Michelle Pfeiffer's new movie "French Exit" finally opens in the UK & Ireland today (July 2).
Directed by Azazel Jacobs, and based on the same title novel by Patrick deWitt, "French Exit" earned Michelle another Golden Globe Best Actress nomination and a win of Best Actress in the 2021 Canadian Screen Awards. On this page you can find a selection of great reviews on Michelle's wonderful performance and the movie itself.
---
French Exit review – a duff display case for Pfeiffer's jewel of a performance
Often stilted and self-conscious, this adaptation of Patrick deWitt's 2018 novel nevertheless has one huge asset…
Through a steely force of will, with a diamond-cut edge to her performance and a gloss of rarefied disappointment in the world, Michelle Pfeiffer almost redeems this self-consciously quirky adaptation of Patrick deWitt's novel. She plays Frances Price, a widowed Manhattan socialite whose plan "to die before the money ran out" is thwarted, leaving her virtually penniless, with just her minks and a manicure for comfort.
She decamps to Paris with her son, Malcolm (Lucas Hedges, struggling to bring life to a desultory shrug of a character), and her cat, Small Frank, who may or may not be the reincarnation of her late husband. Her plan is to live quietly in a borrowed apartment until the final dregs of her vast inheritance have trickled away. Mother and son encounter, among others, a cruise ship fortune-teller with an unerring gift for predicting imminent death and a private detective hired when Small Frank goes missing. And Malcolm's on-off girlfriend, Susan (Imogen Poots), hovers on the periphery, scoring a distant second in Malcolm's affections behind his mother. "Oh, to be young-ish and in love-ish," drawls Frances, cattily. Too indolent a film to overtly tap into Oedipal imagery, it does at least sketch a cosseted co-dependency between mother and son.
There are plenty of cherishable lines, which Pfeiffer deploys to perfection with the world-weary chagrin of a woman who has just found a supermarket olive in her martini. Other dialogue fails to make the journey from page to screen, sounding jarringly artificial and arch. The picture shares some DNA with the work of Wes Anderson, but this scattershot and rather uneven work lacks the obsessive precision of something like The Royal Tenenbaums. Ultimately, it's less a fully realised movie, more a display case for Pfeiffer's jewel of a performance. And there are moments, as Pfeiffer deploys her silky ennui and her venomous purr, where that's enough.
Watch a trailer for French Exit
---
French Exit review – Pfeiffer is glorious in this surreal comedy
The career of Michelle Pfeiffer is one that seems to have many comebacks, but in reality, the Oscar nominee never stopped producing good work. Despite missing half of the 2000s due to a self-imposed hiatus from acting, she still appeared in hits like Hairspray and Stardust, while the 2010s saw her feature in everything from Ant-Man and The Wasp to Darren Aronofsky's Mother!
French Exit may be one of the quirkier films in her filmography, but it also one of her most engaging performances. She plays Frances, a Manhattan heiress with an abrasive temperament that is indulged because of her wealth. This luxury is taken from her, however, when she finds herself penniless following the death of her husband. Selling everything that isn't nailed down, she and son Malcolm (Lucas Hedges) head to Paris to live in the apartment of a friend. However, romantic entanglements and a possessed cat threaten to derail everything.
As the last sentence suggests, the plot isn't afraid to take a turn into bizarre territory. While a welcome surprise, the peculiarity becomes a millstone around the film's neck, as the characters find themselves with nowhere to go. This is literally illustrated at times as the various people in Frances' life all sit together in the same room, unsure what to do next. Malcolm's ex Susan (Imogen Poots) and Danielle Macdonald's Madeleine, a medium they meet on the boat, both have their moments but find themselves ultimately stranded.
However, such weakness barely seem to matter when considering how brilliant Pfeiffer is. It's as if she's ambivalent to life itself, peering at everyone in the world as if they were an uninvited guest in her story (which, from her perspective, they are). It's really difficult to make a character truly vile without putting the viewer off, and the star does it so effortlessly that just sitting in a Parisian café with her is worth the price of admission.
The adaptation of Patrick deWitt's novel lumbers to a close, eventually overwhelmed by its own silliness and leaving just an impression of the romp it could have been. Still, for all its technical shortcomings, the film has drawn one of the great performances of its star's career. For many, that will be enough.
French Exit is in cinemas from 2 July. 
---
French Exit film review: the story's deadly but Michelle Pfeiffer sparkles with life
Why have we barely seen this woman on our screens for so long?
★ ★ ★
M

ichelle Pfeiffer could lick a stamp and make it feel like an event, yet hasn't been at the centre of a feature film since 2017. Here she takes the lead in a slice of magical realism scripted by the playful Patrick deWitt, adapting his own novel, which he calls a "tragedy of manners". Sounds intriguing, right?
Frances (Pfeiffer), a New York socialite, once took part in the languid murder of an unkind man (her husband, Frank). For years, she and her son, Malcolm (Lucas Hedges), have been living off Frank's money and enjoying the company of a black cat ("Small Frank") they believe is possessed by Frank's spirit. With the money all but gone, Frances relocates to a pal's Paris pad, along with Malcolm (who has a fiancée, by the way). One day, Frances tries to kill "Small Frank" who, naturally, scarpers. Shenanigans involving a medium, a private detective and said fiancée ensue.
French Exit begs to be viewed as a risqué romp. A refridgerated dildo is the cornerstone of a memorable sequence and Frances is fond of the word "f***ed".
There's also a thematic overlap with Sofia Coppola's On the Rocks. A well-dressed and outrageously louche parent treats their off-spring like a lover (one woman assumes Malcolm is Frances' gigolo), as an upbeat and jazzy score, along with shots of a retro-pretty city, keep the mood light. On the Rocks worked, though, because Coppola put the focus on her wonderful leads. DeWitt, by contrast, introduces a plethora of one-note figures, most of whom, thanks to director Azazel Jacobs, mingle drably. Nor is the talking cat (that's right, Small Frank is chatty and he's voiced by Tracy Letts) all that.
Still, Pfeiffer is mesmerising in encounters with Valerie Mahaffey's Madame Reynard (the meek owner of the dildo) and Susan Coyne's Joan (Frances' steady best friend). Scenes in which Frances and Joan lock eyes across a crowded room and later leap into a bed, ("We're little old ladies!" shrieks Frances) provide an especially lovely jolt.
How ironic. The film may be a dead-end, yet 63-year-old Pfeiffer has never seemed so alive or full of promise.
---
Now out in cinemas,
French Exit
starring Michelle Pfeiffer. In possibly one of the best roles of her career, Pfeiffer shines in this wonderfully quirky film, that most definitely has an appealing je ne sais quoi quality about it.
Michelle Pfeiffer has never won an Oscar. To put that in some kind of context, Cher has won a golden statuette, and although it was a fine performance (in 1987's Moonstruck), it feels somewhat disturbing that Cher has managed to win won, but Pfeiffer hasn't.
She has been nominated three times however, and should have really won for any of those roles (1992's Love Field, 1989's Dangerous Liaisons and 1990's The Fabulous Baker Boys) but has been woefully ignored by the Academy every single time.
There is an argument that perhaps besides those roles, she isn't necessarily an actress to deliver Oscar-winning performances. But the other side of that argument is that perhaps she is one of the most underrated talents of her generation, which feels more like the case.
Here, as an actor in her early sixties, she gives what could possibly be her best performance yet on screen in this terrifically quirky comedy.
With the death of her husband, Frances Price (Pfeiffer) finds herself in the unusual position of being absolutely broke. This is quite the dilemma for the New York socialite, with the bank swift to take hold of all her assets, including the family home.
Thankfully a close friend comes to her rescue, who offers her the use of her apartment in Paris, which Frances gladly accepts.
So she packs her bags and sets off for France, with her son Malcolm (Lucas Hedges) and their cat small Frank, on what turns out be quite an emotional adventure for the trio.
Considering there are so few roles for actresses of a certain age, the role of Frances Price is a veritable gift for Pfeiffer. It's only fitting then that she embraces it fully, delivering one of her finest performances on film.
The success of the film comes from the writing; Patrick DeWitt's script, based on his own novel, is a sublime thing of beauty. It has a deliciously deadpan humour throughout, which at times makes it the closest thing to being a new Wes Anderson film without it actually being one.
Pfeiffer clearly has a blast playing Price, a well-meaning woman with the occasionally cutting tongue, who has only been introduced to her son Malcolm in recent years, after removing him from school on a whim, to then go on and develop a very close relationship with him. Although their relationship is the main focus of the film, there are a number of larger than life characters that they interact with, most notably Valerie Mahaffey as Madame Reynard, who certainly gives Pfeiffer a run for her money as the best performance in the film.
Even Hedges, who has been accused of being somewhat flaky in previous roles, comes of age here as Malcolm, a son who has been starved of affection from both parents at an early age, and who has quickly become the doting son, willing to go along with any of his mother's fancy notions, including just up and leaving his life in New York behind, to be with her in Paris.
The film overall has a timeless quality to it; director Azazel Jacobs has shot it in a way where it feels almost suspended in time. There are no references to modern technology, and the pair travel to France by ship, which certainly gives it a more glamorous feel over flying. To that end, it's the kind of film that feels like it was shot in the seventies, where it was more accepted for titles that were far from mainstream to thrive, such as 1971's Harold and Maude.
It is a film that has a surprising amount of warmth and charm, as well its fair share of the truly oddball, making for a truly eccentric experience.
The fact is that Pfeiffer is unlikely to be even considered by the Academy for her role, but by this stage is unlikely to be either surprised or even care at being overlooked yet again. That doesn't take way from the fact however that she is in the finest form here, and clearly having the time of her life in the process, in a performance that is beautifully nuanced and highly amusing, darkly under the top fashion.
If you're a fan of both Pfeiffer and comedies with a darker edge, then French Exit is like having all your noëls come at once.
---
French Exit Review: Pferociously Pfunny Pfeiffer
What is it about cats that bring out the best in Michelle Pfeiffer? Her role as Frances Price in French Exit is up there with Catwoman in Batman Returns. As the reserved and unabashedly cold socialite of French Exit, Pfeiffer plays opposite a little black cat named Small Frank. He's one heck of a screen partner, and a purrfect counterpoint to Pfeiffer's own unlikely feline character. In Pfeiffer's hands, Frances Price could easily be the reincarnation of that cat from the Fancy Feast commercials that ate moist and delicious morsels from crystal goblets. The performance should have been this year's Best Actress winner. Like the prissy and fluffy kitty, Frances knows good taste, yet she is pure class and elegance, accustom to only the finest and demanding it with her best-in-show poise and composure.
This adaptation of Patrick deWitt's novel is a deadpan hilarious character study of old money in a new reality. The film might not quite match the league of its source material, but it fares far better than de Witt's previous book to get the big screen treatment, The Sisters Brothers. Where Jacques Audiard starkly reimagined Sisters' black comedy, French Exit director Azazel Jacobs (The Lovers) hones in on wacky characters who enliven the drabbest of settings. Pfeiffer lands such a perfect comedic beat that one would think de Witt wrote the book with her in mind. Pfeiffer carries French Exit with a tour-de-force performance that ranks among her strongest work.
Peculiar Cat Fancy

Frances finds her fortune washed up after her years of lavish and unfettered spending outpaces her. Money, unlike cats, does not have nine lives. "My plan was to die before the money ran out," Frances drolly admits with utter seriousness. The words practically purr out of her, making Frances as impossibly alluring as she is infuriating.
Riddled with debts left behind by her husband, Franklin, who died 12 years earlier, Frances never bothered with work or managing her finances. Her deadbeat son, Malcolm (Lucas Hedges), inherited her genes for unemployment, lunching, daydrinking, and enjoying expensive things. Ending her days atop New York's social ladder no longer seems in the cards for Frances. Like a cat after a canary, though, Frances dashes to satisfy her appetite.
The plan involves the titular "French exit" – a hugely underrated term for ducking out of a party without saying goodbye. The Prices—Frances, Malcolm, and Small Frank—sell their things and quietly hop a boat to Paris. The plan is to stay at the empty flat offered by Frances's friend Joan (Susan Coyne) where they can live rent-free until the money situation resolves itself. On the ride over, though, Malcolm bangs a mystic named Madeline (Danielle Macdonald) who can allegedly foresee deaths in the green haze that hangs atop the nearly departed. (With French Exit and Let Them All Talk, Hedges is having quite the season of kooky cruises.) Frances, meanwhile, mostly keeps to herself and enjoys martinis with the cat. Their relationship is one of peculiar cat fancy.
A scene-stealing Mahaffey

In Paris, though, Small Frank goes missing when Frances tells him what she'll do when their money runs out. French Exit then follows the reliable comedic tradition of adding more characters to the pot. A lonely socialite, a private detective, an ex-girlfriend, etc. Despite the growing ensemble, however, nobody challenges Frances' obviously loose screw, nor her accelerating spending habits. She is the stuff of legend in social circles and they're all eager to enjoy the show.
Frances's novelty is particularly evident in her magnetic charm to Mme. Reynard (a wonderful Valerie Mahaffey), an American ex-pat in Paris. She invites Frances and Malcolm to dinner and insinuates herself into Frances's life. Like a homely little sister, Mme. Reynard lets Frances's retain her grand aura and elevated status at the mere price of a cassoulet and companionship.
But Mme. Reynard also has a story of Frances's past that is the key to Mrs. Price's coldness. Her fascination with Frances lies in her ability to remain aloof to criticism that her late husband Frank was a rotten bastard. Frances's pride, it seems, is well-earned.
The Green Glow
Adapting his own novel, de Witt retains much of the sprightly banter that makes French Exit as darkly funny on film as it is in prose. This is a wry comedy of manners that relishes the minutiae of the upper class. Frances's stack of cash becomes the hourglass ticking down her fate, and as de Witt conjures kookier ways for Frances to make it rain dollars all over Paris, the character becomes grounded as she doubles down on the frivolity of money.
These scenes accentuate French Exit's quietly blooming strangeness. The aforementioned "green glow" that Madeline observes in those approaching death becomes inseparable from Frances's intoxication by money. Two scenes, one near the beginning of French Exit and one near the end, see Frances offer money to homeless men. The first comes on a stroll home through Central Park. Frances finds herself taken in by the romanticism of the man's poverty. Sharing a cigarette with the man who flatters her, she offers him a twenty with an air of patronising pride. Despite being broke, money is a status symbol to Frances. She later gives a much more generous offering to a man in a Parisian parkette. The transaction confers upon Frances a different kind of status consciousness: a sort of acceptance that she too has not a penny to her name but is seeing green.
Catwoman Forever
French Exit accentuates the light touches of magical realism that are more apparent here than in the novel. (I won't spoil them, but fans of de Witt's book should be pleased with the film's handling of Frank the cat.) Each one makes Frances oddly endearing. She is something from another lifetime, a sort of aristocrat held over from The Age of Innocence when "old money" meant something.
This sophisticated air is inseparable from Pfeiffer's star status. Pfeiffer carries herself in a cool manner that gives Frances her lived-in edge. Michelle Pfeiffer is ferociously funny in French Exit by playing it straight. Her measured responses and well-cadenced diction ensure that the dry humour of de Witt's script is casually caustic. Few actors master the art of the resting bitch-face to such hilarious effect. There is a faint, barely perceptible smirk that never leaves her chin, like the masked grin of a Cheshire cat. In Pfeiffer's hands, Frances is a woman with high tastes and low patience. She is both good company and intolerable, like Moira Rose with a more mannered accent and tasteful wardrobe, but equally so a fish-out-of-water.
Like Moira, Frances finds redemption in her own way by seeing what money can and can't buy. Although de Witt's adaptation dispenses with much of Frances's backstory aside from the tale offered by Mme. Reynard, and a crucial flashback about the day she found Small Frank, she feels like a fuller character by the film's end. De Witt gives Frances a new fate in the adaptation, one that is equally dire but far more beguiling. Frances might have called herself a cliché by the last page of the book, but she'd hardly say the same by the end credits.
---
Michelle Pfeiffer and Lucas Hedges are well-matched in French Exit
"French Exit", Azazel Jacobs' new film takes place in a world removed from our own. Yes, it takes place in something resembling contemporary New York and Paris, and the characters speak in English and look like people we are familiar with. But, an important part of the fabric of its existence depends on something existing on the peripheries of normality and reality. A world, just slightly askance.
The opening moment of "French Exit," which is an adaptation of Patrick deWitt's novel, is a brief two-minute prologue. In it, a woman – clearly rich, and clearly unconventional – arrives in the middle of the day to remove her son from school. The headmaster is against it. The woman, shepherding her pre-teen son out of the building, does not care. The son is concerned about the lack of clothes, and his other things. "We'll buy new ones," she insists. And so, they leave. Later in the film the scene appears in full, contextualising the seemingly spontaneous escape and the countenance of the players. But it sets up two things that are critical to the film that will follow: The obedience of Malcolm (Eddie Holland), the son, to his mother, Frances (Michelle Pfeiffer), and her carelessness about money and the world around her.
If, "French Exit" has any straightforward crises to resolve, it is that both characters must come to a point where they overcome these issues. And, in their way, Malcolm and Frances do work at grappling with these issues over the course of the film. But, "French Exit" is not straightforward. And as familiar as Malcolm and Frances might be, they are not quite like people we know. It's important that they not be, and that the world they inhabit feels ever so slightly off-kilter.
The proper story begins, some years later, in something like the present. Frances and Malcolm (now, an adult, played by Lucas Hedges) live in a grand house in New York but the money is dwindling. So much so that the new year, less than a month away, will see all their resources repossessed and their income stream – all inherited from Frances' dead husband – will be cut off. The only valid solution is for Frances to, not quite legally, sell everything off and take the money and escape to Paris. Malcolm, despite his engagement, accompanies her on this impromptu exit to Europe, along with their cat – a physical vessel for the soul of Frances' dead husband.
The cat-as-father aspect of "French Exit" is inarguably the most explicit evidence to argue for the oddity of "French Exit", but it's important that the film, like the novel, delays this information for some time. For "French Exit" to work, this fact must be a mere casual bit of information in a world that already seems off. deWitt, adapting his own novel for the screen, keeps the shape of the original text and cedes much control and trust to Jacobs' direction, which produces a critical mood of slippery strangeness on-screen.
In some ways, the arch tweeness of "French Exit" seems out of place for now, too affected to exist in the here-and-now. An ambivalent engagement with an heiress hanging on to her finances in a 2021 that has only revealed the perversions and corruption of the very rich feels at best tone-deaf, at worse exhausting. But part of the charm of "French Exit" is that it does not quite fit. This is not a world recognisably like ours.
deWitt's novel is riffing on a particular kind of absurdist-lite comedy of manners that is inherently literary in the way it seems to be more novel and novelistic than real or realistic. But the external trappings of the story are only performing a kind of sleight-of-hand for the emotions lurking beneath that counter than distancing artifice for something more complicated. This is not a world like ours but beyond the specifics of the plot and the content of these odd people "French Exit" is exactly of this time. It's suffused with an ambivalent sadness that dances into comedic that is not as much funny as it is sadly wan.
Pfeiffer and Hedges are excellent at inhabiting the space of that ambivalence. For Pfeiffer, much of it is in her intonation. Pfeiffer, notably excellent at inflecting her voice to arch effect, performs Frances as a woman preternaturally aware of her ludicrousness but also unable to resist it. Her affectations are maddening, but too knowingly ridiculously in their self-awareness; too silly for tragedy, but too deliberate to be silly. It sets Hedges up as a perfect dramatic foil for her. If Pfeiffer is the best offence, then he is the best defence. Hedges has always been good, but here – equipped with a deadpan ability to react to the chaos around him – he has never been better, and as the ambivalent comedy gives way something less ambivalent and less funny, they both get even better.
In France, the pair finds comfort and distraction. First, a medium enters the picture to act as an intermediary between the world of the film and the magical cat. Then, another American expatriate, (a note-perfect Valerie Mahaffey) offers something like friendship for Frances. They are joined by Malcolm's jilted fiancée, her new-boyfriend, an amiable detective and a childhood friend of Frances.  Important conversations between "dead" dad, living son and in-between mother become the focal point of the story and suddenly the incongruous patterns of "French Exit" reveal themselves slowly, but surely, as an exploration of grief and loss of control.
Can sadness be comedic? Each moment of "French Exit" seems suffused with it. From the melancholy timbre of Nick deWitt's score, which interjects as a release from tension but also to extend our uncertainty, to the casual way that Tobias Datum's camera traipses through the streets and hallways, considering and questioning the artificial surroundings of these people and their artificial lives. The undertones of sadness only serve to augment the wry whimsy, but the whimsy is never working to release us from the tensions of grief. When we get the full context of the opening scene at the end, it is as if a puzzle has been worked out but still without a solution. "French Exit" depends on its slipperiness, its abruptness and its unwillingness to let us figure out exactly what it is. But, by the end, it's hard not to be moved by its sincerity. Even in a world that seems completely removed from ours, the trueness of the emotions beneath it feels real enough.
"French Exit" is now available for streaming and purchase on GooglePlay, iTunes, and YouTube.
---
French Exit
Famous Manhattanite widow Frances Price (Michelle Pfeiffer) has just been told that she's bankrupt. It's not a surprise—her financial adviser has been warning her for years—she just figured she'd be dead by the time it happened. With nothing else to do, Frances abruptly takes her adult son Malcolm (Lucas Hedges) to a friend's apartment in Paris, smuggling in their cat Small Frank (Tracy Letts), who's mutually understood to be the late Franklin Price reincarnated. Resigned to her fate as a cliche-come-to-life, Frances is isolated and unpredictable, hinting that once her cash supply runs out, she'll go ahead and kill herself. Played by a delightfully erratic Pfeiffer, Frances carries the dramatic comedy French Exit alongside a slow-growing cast of offbeat secondary characters who find themselves tied up in her and Malcolm's affairs. (Valerie Mahaffey stands out as a hauntingly awkward Madame Reynard, a fan of Frances and fellow widow who brings both humor and incredible cringe-horror elements to the film.)
At face value, it's a meandering rich white people movie, adjacent to being a knock-off Wes Anderson film with a toned-down aesthetic, but there's something about French Exit that feels compelling in an intangible way. It's a film that's hard to read, with its present-day setting and characters riddled with anachronisms, and its occasional supernatural moments, but those couple with a solid cast and simple score to mold French Exit's identity. Patrick deWitt's screenplay, based on his book of the same name, contains smart humor and self-aware characters in no hurry to divulge details or backstories. It has its own set of rules that the audience never quite learns, but that just contributes to the antiquated dreaminess that director Azazel Jacobs fosters in the film. Accept that you're living in Frances Price's reality—which Pfeiffer makes easy—and French Exit will feel like a fascinating escape.
---
French Exit review — Pfeiffer impresses throughout, the movie occasionally
An Irish-Canadian co-pro, which explains the Canadian novelist writing the thing, and the presence of veteran Canuck thespian Susan Coyne in a key role, French Exit is a comedy soufflé of sorts — equal parts droll chamber piece and meandering, melancholy character study. If it rarely hits laugh-out-loud targets, it gives Michelle Pfeiffer her best role in years. The entire picture hangs off her character, who is worth getting to know better.
She's Frances Price, who at one time was the toast of New York high society, married to a fellow named Franklin (Tracy Letts). But, he died and she spent his money. Now, deeply insolvent, she has to sell all her valuables before the bank takes everything. Cash in hand, the family cat, Little Frank, in her carry-on bag, and her adult son, Malcolm (Lucas Hedges) tagging along, they sail to Paris where she'll hide out in a flat her good friend Joan (Coyne) barely uses and spend the last of her cash.
It's a slow start. Frances is frequently miserable company, while Malcolm is even worse — he cruelly abandons his terribly-dressed fiancé, Susan (Imogen Poots), to join his mother on this trip. His mommy fixation isn't especially well explained, but mostly he's there just to give Frances someone to bounce off of. Fortunately, French Exit isn't really about the hard times of an obnoxious family of privilege, which would be intolerable.
It gets a lot wackier — and better — when they pull into Paris. There's something strange going on with the cat that involves a clairvoyant they met on the boat (Danielle Macdonald), an ex-pat American of their acquaintance (Valerie Mahaffey), and a French private investigator (Isaach De Bankolé). By the time our peculiar crew are gathered around a flickering candle for a seance with Franklin's feline-bound spirit, you're either on board with how silly this is getting or you're not. I was, for the most part. This is definitely weird, sometimes approaching wonderful.
Pfeiffer has always been a potent character actor in the body of a Californian leading lady. Frances might feel the glamour is gone from her life, but it's still plenty evident in Pfeiffer's performance. The melancholy in the story — it's really all about aging and death — keeps the picture grounded underneath all the shenanigans, and Pfeiffer roots it in place, channeling both grief and her particular brand of brittle iciness. It's as if she's revisited Elvira, her character from Scarface, but at age 60 — with all the cocaine and hard times still haunting her. It is a little hard to believe someone as vital as she is wouldn't see Paris not just as a coda but as an opportunity for the next chapter, but a dark finality is where this picture is heading.
And while it mostly charms on its way there, French Exit leaves its audience with plenty of questions. Not the least of which is: Why did the scenes aboard the ocean liner look so unreal? (Especially having just seen Lucas Hedges in Let Them All Talk, where the Queen Mary was basically a character in the film.)
Furthermore, what was up with the dildo in the freezer? And why did Julius the Investigator, and Mme. Reynard, the American ex-pat, feel it necessary to stay over in Joan's flat with Frances and the rest of them? As I said, wacky. Also, weird. Sometimes almost wonderful.
---
Michelle Pfeiffer reigns over flawed 'French Exit' with mesmerizing hauteur
At no point in "French Exit" is it suggested that young Malcolm should get — what's that called again? — a job. Quel horreur! Instead, Frances and Son set off for France, where they'll pursue their lifestyle of exquisite taste and graceful mooching while living in the borrowed apartment of a well-to-do friend.
Directed by Azazel Jacobs and written by Patrick DeWitt (adapting his own novel), "French Exit" exists in a world that might have sprung fully formed from the quirkiest recesses of Wes Anderson's imagination, with drops of DNA from Whit Stillman's WASP catalogue and Buñuel's absurdism. The casually tossed-off insults, morbid asides, petty bon mots and arch affectations toe a treacherous line, constantly threatening to become insufferable. But a goofy strain of humble humanism manages to keep the self-consciously mannered house of cards from collapsing from its own pretensions.
Hedges plays his admittedly sketchy part with the knowingness of someone who understands the world "French Exit" inhabits: a shabbily genteel universe of elegant oddballs whose connection to recognizable real life becomes more attenuated the longer they stick around. (Those oddballs, by the way, are portrayed by a wonderful cast of supporting players, including Susan Coyne and Isaach de Bankolé, as well as a spectacular black cat that may or may not embody the soul of Frances's late husband.)
But it's Pfeiffer — and the funny, generous, cruel and bluntly confrontational Frances — who takes firm possession of "French Exit" and never lets go. Along with 2017's "Where is Kyra?," "French Exit" winds up being a heady celebration of late-career Pfeiffer, which might be the best Pfeiffer to date. She's still an astonishing beauty, but now that her looks have been tempered by time, she's newly liberated to prove what a gifted actress she's been all along.
Indeed, Pfeiffer's earthy authenticity is often at odds with the stylized artifice that keeps accruing in "French Exit," a tonal mélange that Jacobs handles with his usual dexterity. (He has proved his lovable-eccentric bona fides in such gems as "Momma's Man" and "Terri.") When slapstick and screwball elements take over, it's a game of diminishing returns. There are times when "French Exit" beggars belief and tries the viewer's patience. But as long as the camera stays on Pfeiffer, we're all hers.
3 Stars
---
French Exit Review: Michelle Pfeiffer Is Exceptional & Magnetic In Odd Film
Despite a brief focus on its themes and an incredible performance by Michelle Pfeiffer, French Exit doesn't quite live up to the potential it sets up.  MAE ABDULBAKI | SCREEN RANT
Directed by Azazel Jacobs from a screenplay by Patrick deWitt (who also wrote the play the film is based on), French Exit explores sadness and the heightened sense of hopelessness that can only stem from financial insecurity and a spiraling sense that the end is fast approaching. However, despite a brief focus on its themes and an incredible performance by Michelle Pfeiffer, French Exit doesn't quite live up to the potential it sets up.
Years following the death of her husband Frank, Frances Price (Pfeiffer), a Manhattan socialite, has lost all the wealth she's ever had. In a last ditch effort to preserve some of it for herself and her aimless son Malcolm (Lucas Hedges), who is far less devoted to his fiancée Susan (Imogen Poots) than he  is to his mother and has little passion either way, Frances sells her jewelry and belongings and moves into her friend's vacant Paris apartment. Things take a strange turn, however, when her cat — whose name is Small Frank after her late husband — goes missing.To be fully immersed in French Exit, the audience will have to embrace its quirks and go with the flow because the film's logic isn't exactly its strength. There are hints indicating what happened with Frances and her husband, where she was during his death and the aftermath thereafter. This dialogue comes in short bursts throughout the film, thankfully, rather than in one expository scene, though the time it takes to finally get the big picture may frustrate many. Although the film gets lost in the nonsensical nearer to the end, the story's strength lies in its focus on Frances, a despondent woman who puts up a front for others while seemingly preparing herself for the inevitable.
With the money she has left, Frances lavishes in the finer things, generously tipping a driver, handing Malcolm a stack of cash when he says he's going for a walk. Money is one of the only things keeping her going, feeding into the only lifestyle she's ever known. But, cash runs out and so, it seems, does Frances' hope. She's lost (though she hasn't lost her wit) and is trying to hold it together, with grim, sardonic smiles that trick people into thinking she's still fine. Whereas Frances is the dominant character, the love she has for her son (and vice versa) shines through in many instances and it's a reminder of the gentle, fond relationship between them and how it grounds the film.When the story delves into Frances' emotions and her downslide as the story develops, the film is truly at its best.
However, French Exit falls apart in the second half, introducing a plethora of new characters who don't add very much to the plot, nor do they deepen their relationships with Frances. In the case of some, such as Susan's new boyfriend, they're more of a nuisance than anything else, taking up space simply because they can. Their problems seem more trite by comparison, especially when factoring in Susan and Malcolm's bland and seemingly aimless relationship (Poots puts in a lot of effort to convey her character's caring nature to contrast Hedges' nonchalance as Malcolm).
However, the plot is completely lost when Frances loses Small Frank. Seances and a talking candle are involved here (it gets very weird) and it might take the audience out of the narrative almost completely. While the focus remains on Frances and her feelings of turmoil, French Exit doesn't fully grasp what it wants to be and drops the ball on exploring Frances and her interiority further, more concerned with shenanigans of all the houseguests and the potential ghost of her dead husband. In this vein, French Exit doesn't make too much sense despite the solid buildup. It also becomes increasingly difficult to sit through, leaning heavily into the abstract absurdity of it all.
Pfeiffer is, as always, a force onscreen. There aren't enough words in the dictionary to describe her talents, especially in a standout role like this one. She embodies the role of Frances, an assured, somewhat odd, woman who is comfortable being herself and even more comfortable with making others feel awkward having judged or spoken to her in a way she deemed unfit. Pfeiffer is mesmerizing, portraying Frances as an alluring mystery while simultaneously reminding the audience she is a human being with a range of complicated emotions. She's distant and straightforward, loving and also incredibly sad. While the rest of the supporting cast is good, no one can live up to Pfeiffer's performance or emulate her magnetic screen presence. In her gaze, the actress exudes warmth and steely resolve. Despite the film's underwhelming and bizarre story developments, French Exit will remain memorable for Pfeiffer's performance alone.
French Exit is playing in theaters nationwide April 2, 2021. The film is 113 minutes long and is rated R for language and sexual references.
FRENCH EXIT (2021)
OPENING THOUGHTS:
Those that know me know that my adoration for Michelle Pfeiffer has no boundaries, but, and I can say without bias that despite a stellar career now in its fifth decade – which include such accolades as 3 Oscar nominations and 8 Golden Globe nominations (including 1 win) – she constantly still seems to be somewhat of an underrated force in the industry. The last few years have seen her deliver some of the bravest work she's been afforded (her supporting turn in the divisive mother! and her gut-wrenching lead performance in the criminally under-seen Where Is Kyra? are prime examples) and with French Exit, likely to remain as one of the year's most surreal, unique offerings, she's finally earning the attention that so many of her previous undervalued performances deserved.  There's a reason that Pfeiffer has been dubbed "a national treasure" and that she delivers a "role for which she will be remembered", as she truly devours the screen with that signature pursed lip and seductive vocal fry, holding everyone at attention as she consumes the dialogue, settings, and characters around her.
Azazel Jacobs, son of experimental filmmaker Ken Jacobs (who has a near-seven hour production to his name, 2004's Star Spangled to Death), is no stranger to framing conventional material with a more careful, elevated eye.  French Exit, based off the novel by Patrick deWitt, has a standard story at its core, but Jacobs places his trust in the surreal personality of the proceedings, as well as his incredibly capable cast who all surrender to the material in a manner that feels alarmingly organic.  Heightened characters and an arc involving a black cat that seems to be inhabited by the spirit of a deceased character – just go with it – feel intricately crafted to a degree that the absurdity feels incredibly grounded.
Whilst the outline that French Exit focuses on a New York socialite (Pfeiffer's Frances Price), close-to-penniless, widowed, and preparing for the end of her reign (so to speak) – when her accountants asks why she didn't make better financial decisions, she answers that her plan "was to die before the money ran out but I kept and keep not dying" – doesn't exactly sound like the most exciting narrative, DeWitt's dialogue, equally tragic as it is tongue-in-cheek, injects a bite into proceedings, which gives way to the more absurd, near-farcical temperament the film ultimately delights in.
ACTING | CHARACTERS | DIALOGUE:
Unsurprisingly, Pfeiffer dominates every second she's on screen.  Whilst Frances could be almost defined as a caricature on paper – her dialogue and quirks could've very easily overwhelmed an actress of lesser talent – Pfeiffer embodies her with a heart, something rather ironic given the character's penchant for acidic retorts.  And because Pfeiffer is so good, the ensemble around her – all incredibly capable actors in their own right – are all elevated to her level, resulting in a truly masterful effort from all involved.  Lucas Hedges, managing to make his disinterested monotone delivery an art form as Frances's son, Malcolm, and Danielle Macdonald as a jaded gypsy (or "the fucked witch", as Frances describes her) prove suitable standouts among the eventual chaos, but, next to the terse sarcasm of Pfeiffer, the enthusiastic Valerie Mahaffey as a chatty neighbour, and self-proclaimed Frances admirer, energises the film with a vivacity that so delicately borders on desperation without surrendering to it.
VISUAL EFFECTS | MAKEUP | DESIGN:
The film spends the majority of its running time in Paris, bookending in New York, and as glamorous as those cities are respectively, and by no means do they appear unattractive here, no effort has been put into framing the cities as romantically as expected.  The cities are secondary to the tragic comedy unfolding within the expansive walls of Frances's Manhattan mansion or the Parisian apartment that soon houses the various oddball characters that are drawn in by her, at times, poisonous allure.
MUSIC | SCORE | SOUND DESIGN:
Maintaining a sense of realism amongst its surrealistic nature, there's an almost immersive-cum-invasive temperament adhered to when keeping remnants of characters in certain scenes, even if they aren't physically present.  When Malcolm suggests his mother look in the freezer of their overly-familiar neighbour so she can view the cold oddity inside (a prime example of the film succeeding in its ability to earn subtle laughs) we remain on his face, though we hear Frances's footsteps as she travels to and from the kitchen, whilst another scene involving the aforementioned neighbour and the unexpected choking on her drink she suffers due to Frances's delivery of the word "carnally" allows an entire conversation to play out whilst, ever so faintly in the background, we hear her clear her throat and gain composure – the character essentially having her own scene away from the film's focus.  It's the simplest of these true-to-life additives that see French Exit wholly realise itself as a film dedicated to normalising the inane.
Wickedly funny at times, though always harbouring a sadness that layers the film beyond its odd premise, French Exit is a truly masterful product that furthers Jacobs's unique storytelling abilities, whilst maintaining Pfeiffer's status as one of the most chameleonic performers of her generation.
---
Review of "French Exit"
A purrrrrfect vessel to showcase the incomparable Michelle Pfeiffer's acting chops–complete with a–you guessed it–black cat! French Exit gets its wide exclusively theatrical release this Friday, and if you are a fan of Pfeiffer, then you don't want to miss this whimsical, existential motion picture that's as quirky and aimless as Frances (Pfeiffer) and Malcolm (Lucas Hedges), yet possesses an incredible charm that will hook you from the very beginning when Michelle Pfeiffer waltzes into her son's prep school in a mink fur-lined trench coat that ostensibly gives her a larger-the-life power and protection from judgmental eyes of Manhattan high society.
Aging New York socialite Frances' (Pfeiffer's) is in dire straits, beset by scandal and impending bankruptcy. Her accountant tells her that she has burnt through her inheritance, and is now broke. Frances isn't alone, she has her aimless son Malcolm, but he is of no help due to his perpetual mire in a permanent state of arrested development. Frances is forced to sell everything. Putting penury and pariahdom behind them, along with their car, the two quirky social outcasts decide to cut their losses and take the French exit. One ocean voyage later, the curious trio land in their beloved Paris, which will serve as a backdrop not for love or romance, but self-destruction and economic ruin—to riotous effect. Frances takes the last of her money and spends frivolously as she has accepted the fact that she is a cliche, but in that, she is timeless.
French Exit is based upon the novel by the same name written by the screenwriter Patrick deWitt and directed by Azazel Jacobs. While the film does not follow a typical plot structure, it does deliver a story stressing the emotional and psychological journeys of our central characters and supporting cast, which often stress individualism. Furthermore, the film delivers darkly comedic moments that explore the human condition and even human existence in and of itself. The screenwriting is filled with hilarious irony and sarcasm that often says exactly what we are thinking within a similar conflict, as the audience, but rarely have the chutzpah to state aloud. Jacobs' and deWitt's combination of surrealism, subjectivity, and running commentary by Frances and Malcolm create a sort of narrative ambiguity in the sense that you will undoubtedly ask questions of the film that are only ever partly answered, if answered at all. Usually this could run the risk of frustrating the audience, but it's the off-beat comedy and Pfeiffer's command of the screen that truly anchor this avant-garde motion picture.
Before discussing the film's biggest selling point and sole reason to watch–Michelle Pfeiffer–I want to spend some time on the title itself, but more specifically what it represents. While on the surface the title may seem to be an extension of the slang French leave, "a departure from a location or event without informing others or without seeking approval," which does describe the manner in which Frances and Malcolm leave New York and how Frances dramatically exits the film, it's actually a creative nod to the style of filmmaking that is at the soul of this picture–French New Wave. In both its cinematic and literary (extrapolating from the evidence at hand) forms, French Exit is a product of the French New Wave movement in cinema, which was popularized following World War II and the massive influx of American films (most famously noir). Jacob's vision for this existential exploration brings a fresh, auteur approach to deWitt's screenplay using his camera-stylo to craft stylistic scenes through montage (French for assembly). Moreover, many of these shots and scenes and mesmerize the audience with excellent use of dramatic imagery that plays with audience expectation.
Throughout the film, it's clear that Jacobs' takes inspiration from the films of the French New Wave era evidence in everything from the blocking of the characters, the emotionally-driven scene sequences, intentionally awkward pacing. Further evidence of the inspiration taken from French New Wave includes a sort of cinematic defiance–a film that refuses to live by conventional diegetic rules. Much like Jacobs' flagrantly defies cinematic expectations placed upon the artistic medium by scholars like yours truly, the character of Frances also doesn't give a damn what anyone thinks about her, her son, or her cat. She doesn't care that she isn't relatable. You will take her or leave her. But we all know that we are going to take her, because of the outstanding, nuanced performance by Pfeiffer.
I love this line: "My plan was to die before the money ran out, but I kept and keep not dying, so here I am." It's but merely the tip of the iceberg of delicious character study! Jacobs' provides a role for Pfeiffer that she's not quite had the opportunity to play before. What I love about the character of Frances (hmm, could this be nod to French New Wave filmmaker Francois Truffaut?) is that she isn't quite a diva, but a sophisticated, entitled, and savagely articulate socialite, with a hint of camp. While we have seen Pfeiffer in roles that have given us a glimpse into this type of character, her role in Murder on the Orient Express for example, and had the pleasure of enjoying her bewitching role in the fantasty-comedy Stardust, and the showcase of larger-then-life camp in her definitive role as Catwoman in Batman Returns, Pfeiffer channels all these memorable characters yet finds a way of grounding Frances in reality.
It's not only the words she says, but it's how she says them. Everything line is delivered with razor-sharp precision accompanied by an unmistakable nuance. Not limited to Frances' dialogue, but her entire body is completely engaged in every single frame. And the manner in which she sprays perfume or wields her cigarette like a rapier, she commands your attention. In the same way that Jacobs' film itself is a bit like controlled chaos, Pfeiffer's portrayal of Frances is very much the same. Whether she's drunkenly slinging kitchen knives or lighting floral arrangements on fire when the server neglects to provide timely service, Pfeiffer ensures that we not soon forget Frances.
French New Wave meets screwball comedy in this adaptation that was tricky to execute. Fortunately for audiences, Jacobs succeeds brilliantly! Even though the story's weird pacing and tonal shifts marches to the beat of its own drum, this nearly one-room play delivers laughs, thoughtful moments, and the kind of absolutely ridiculousness we sometimes need! For all this film does uniquely well, it's that unique comedic tone that wont' likely resonate with everyone. However the ensemble cast of off-beat characters craving human connection will resonate with audiences, and prompt them to enthusiastically embrace the film. And it's that desire for human connection, which universally appeals to us all. connection lends it a universal appeal that deserves to be enthusiastically embraced. If for no other reason, this film provides an excuse to enjoy 110 minutes of the glorious Oscar-deserved Michelle Pfeiffer.
---
What Lies Beneath: The Startling Intensity of a Michelle Pfeiffer Performance
"Seriously?" asked the celebrated, thrice-Oscar-nominated actress of an overstepping journalist.
It was April 2018 and Michelle Pfeiffer was sitting on the stage of the Beacon Theatre beside director Brian De Palma and actor Al Pacino, her collaborators on the controversial gangster classic Scarface. And to the apt mystification of actress and onlookers alike, the moderator of the event, Jesse Kornbluth, wanted to know what Pfeiffer weighed in 1983.
Pfeiffer had reunited with De Palma and Pacino at that year's Tribeca Film Festival for the 35th anniversary of the movie that propelled her to multi-million-dollar-paycheck, magazine-covering movie stardom. Pfeiffer was so intent on scoring the supporting role of Elvira Hancock—the abrasive, indolent, fashion-forward wife of Pacino's vicious drug kingpin Tony Montana—that the then-little-known actress paid her own airfare from New York to Los Angeles to audition. The actress, who the year prior had tackled her first lead role in the initially laughed-off but since-reevaluated Grease 2, beat out peers like Sharon Stone, Sigourney Weaver, and Glenn Close (Pacino's preferred choice) for the part that would make her an era-defining icon, emulated by the likes of Rihanna (who allegedly wanted to play Elvira in an aborted reboot) for decades to come.
Between Elvira's backless dresses, bobbed hair, and languid strut, it's no wonder that Pfeiffer's performance is mostly recalled for its surface appearances. But what lingers beyond the clothes and cosmetics is Elvira's face, emaciated from years of drug abuse and self-starvation, flushing with hurt as she stands alone after being publicly assaulted and humiliated by Tony in a crowded restaurant, realizing her loveless marriage to him is finally over and she is the only one adult enough to accept it. As Elvira unleashes a flood of clipped and cutting insults at her husband, Pfeiffer's tightly controlled fury, barely able to mask her character's despair, packs a greater punch than Pacino's swaggering, blustering brownface routine. The raw emotional honesty of Pfeiffer's acting is what gives the character depth and dynamism, what makes her far more than a walking mannequin.
Pfeiffer's performances have always contained this duality between stunning surfaces and the dense interiority that only the greatest screen actors can map out across spliced frames. What exactly is it about Pfeiffer, an untrained and elusive actor who's long shunned the glare of publicity all movie stars must endure and whose incurable perfectionism has often made her one of her fiercest critics, that inspires such fascination and devotion in film lovers? In French Exit, Pfeiffer returns with her most conspicuous role in years as Frances Price, an acerbic Manhattan socialite who flees one metropolis for another with her devoted son (Lucas Hedges). But the key to Pfeiffer's singular skill lies elsewhere, beyond the forced quirk of this gabby Parisian comedy full of bon mots that would sound stale in a late Woody Allen movie.
After years of child-rearing and supporting parts that have displaced her from the Hollywood limelight she dominated not so long ago, Pfeiffer remains nothing less than an actress for the ages, one whose peak performances reveal a captivating, camera-ready quality that is easy to dismiss under the banner of beauty. Though Pfeiffer is hardly the first female film star to receive condescension for her pageant-ready good looks—she placed sixth in the 1978 Miss California competition—it's consistently made her unfair game for cynical criticisms and patronizing misconceptions.
When Pfeiffer was notoriously cast as a battered, plain Jane diner waitress in Garry Marshall's 1991 romantic comedy Frankie and Johnny, many cried foul—including Kathy Bates, who originated the role of Frankie off-Broadway in Terrence McNally's play, a romance about two everyday people overcoming their dark histories to connect and commit to their love. Yet Pfeiffer delivered what is arguably her greatest performance in Marshall's underrated gem, ineffably and gently affecting in every moment. As her believably nerve-bruised Frankie slowly opens up a heart she thought was nailed shut, Pfeiffer singlehandedly renders moot the mentality that physical beauty somehow precludes its possessors from domestic abuse and dead-end jobs.
Pfeiffer's best performances encourage viewers to look harder and think deeper, and she has routinely elevated underwritten parts and studio-made productions that are beneath her talents. She dignified the terrorized and unraveling housewife at the center of Robert Zemeckis' delightfully absurd horror blockbuster What Lies Beneath (2000) and the guileless, well-intentioned Texan hairdresser who falls for a Black man at the height of the civil rights movement in 1992's Love Field. Pfeiffer received the last of her three Oscar nominations for the latter performance, eloquently and empathically underplaying a broadly written ditz another star might have simply caricatured. The actress scorches through A Thousand Acres (1997) as a cancer-stricken farmwife rebelling against the evils of patriarchy with a fiery-eyed ferocity that later flourished in 2002's White Oleander. Playing an incarcerated artist bent on maintaining control of her teenage daughter, Pfeiffer intimidated scene partners into near-total submission, just as she did to Jennifer Lawrence with her few indelible scenes as a libidinous, uninvited houseguest in mother! (2017).
These are highly dissimilar characters united by Pfeiffer's startling and malleable intensity. It's what Pauline Kael detected when she watched Pfeiffer as a home-wrecking starlet in PBS's Tales from the Hollywood Hills: Natica Jackson (1987) and subsequently urged director Stephen Frears to replace Kelly McGillis with Pfeiffer as the seduced and abandoned Madame de Tourvel in his 1988 Dangerous Liaisons; Pfeiffer's tragic, lachrymose turn in Frears' searing 18th-century drama ultimately netted the actress her first Oscar nomination. It's what Jonathan Demme, who directed Pfeiffer to screwball perfection as a liberated mafia widow in that same year's Married to the Mob, admired when he asked her to play FBI agent Clarice Starling in The Silence of the Lambs, only to be turned down by Pfeiffer because the grisly material made her squeamish.
Like many a star, Pfeiffer is almost as famous for the roles she nearly played at the height of her stardom as the ones she did. Instead of starring in Pretty Woman, Basic Instinct, and Thelma & Louise––the lattermost of which she cannot bring herself to watch out of disappointment––Pfeiffer was nonetheless giving some of her most acclaimed and essential performances. Her leather-bound Catwoman in Tim Burton's Batman Returns (1992) is perhaps even more idolized than Scarface's Elvira, a performance remembered for its sinuous physicality and kinky impudence. But when Pfeiffer's Selina Kyle takes a spin on the dance floor with Michael Keaton's de-caped crusader, each deceiving the other, the actress raises the stakes of this comic book lark, drawing palpable romance into the picture through the melodramatic conviction of her performance.
Even more devastating is her Ellen Olenska, the disgraced countess besotted with a man she cannot have, in Martin Scorsese's 1993 period drama The Age of Innocence. Pfeiffer's pained face, blue eyes bearing the bright clarity of stained glass, and self-conscious delicacy of gesture convey the emotional toll of abiding by the decorum and mores of a constrictive society at the expense of one's own happiness. Pfeiffer egregiously lost an easy Oscar years earlier to Driving Miss Daisy's sentimental favorite Jessica Tandy, despite claiming every major critics' prize for playing escort-turned-lounge-singer Susie Diamond in The Fabulous Baker Boys (1989). Slinking on the piano in a backless red dress while purring "Makin' Whoopee" remains one of the more memorable scenes of Pfeiffer's career, but the heart of the performance is the character's wounded pride as she defends her years of sex work against the heartless derision of Jeff Bridges' piano man, for whom she croons and cares deeply. Traversing the realist, fantastical, and historical in three films, Pfeiffer is just as plausible trilling into Suzie's mic as she is cracking Catwoman's whip as she is waving the Countess' fan across her tell-tale face because she has connected with these characters at their soulful cores.
There is too little opportunity for Pfeiffer to dig deep in French Exit, adapted by Patrick DeWitt from his 2018 novel. Whatever comedic spark DeWitt's story possessed on the page is lost in Jacobs' woefully lethargic film, which restricts Pfeiffer from expressing the reservoir of complex feeling that seems to excite her most as a performer. Instead she is pushed into reiterating the same notes of imperiousness, mordancy, and acrimony from opening scene to last, preempted from deepening the character beyond the unfeeling hauteur of her first impression. Pfeiffer can still slice glass with one withering look and cut a magnetic figure that briefly vitalizes a flatlining scene. But comic badinage is not her forte. And that's okay. Perhaps we overrate versatility at the expense of the emotional profundity Pfeiffer seems to innately access and which allows her to get inside the conflicted hearts of her hurting characters. Frances is defined by her acerbic nonchalance, but the most affecting Pfeiffer characters cannot help but care—sometimes hotly, sometimes silently, always deeply—in spite of their best efforts to submerge their concerns beneath cool facades. Her best scene in French Exit is thus her most nakedly emotional, a pledge of eternal devotion delivered directly to her adolescent son as she drives him away from boarding school, turning him into a lifelong conspirator through the powerful current of her intense sincerity.
It is a sad truth that Hollywood, for which Pfeiffer has done the lion's share of her work, simply doesn't know what to do with women over 50 who aren't named Meryl Streep. But there is promise in independent cinema, should Pfeiffer choose to work there more steadily. Pfeiffer hit a new career high in Andrew Dosunmu's Where Is Kyra?, a searing character study that the actress—who has recently embraced the spotlight if only to publicize her successful perfume line Henry Rose—seemingly refused to promote upon its micro-release in 2018. After years of diverting, albeit unchallenging turns in studio amusements like Hairspray, Stardust, and Maleficent: Mistress of Evil, Pfeiffer lent her talents to an interesting, up-and-coming filmmaker, whose every formal choice is centered around his leading lady, and impressed mightily as a Brooklyn woman pushed to criminal ends by economic desperation. Shot in close-up with rapt, lingering attentiveness by Bradford Young, Pfeiffer found the ungovernable maelstrom of thought and feeling in her highly disciplined stillness, as she has done time and again, charisma undimmed.
In her finest performances, Pfeiffer has proven herself an actor uniquely gifted at expressing all that language cannot capture, excavating the ambivalent hearts of so many women. She makes you wonder what secrets her characters are bent on keeping, what past pains they are struggling and failing to forget and move past. Her mode of acting is rooted in the body, though not in the lurid way suggested by that sexist Scarface incident. In front of the camera, Pfeiffer shows us all the body can conceal and reveal about a human life. With any luck (and the right collaborators) Pfeiffer may still have a great deal left to show us—not only about who we are, but what she alone is capable of expressing.
---
'French Exit' – A European get-away full of a surprisingly amount of laughs [REVIEW]
Booking our trip to France now.
Oooohhh, I get it! Because they're escaping to France! Clever!!
French Exit is a new dramedy of sorts (one that's perhaps a little bit odder than the trailer might suggest) from director Azazel Jacobs, a man whose past filmography I am unfamiliar with even though he's worked a decent amount up until this point.
Based on a novel of the same name from Patrick DeWitt, who is also a co-writer on the film, French Exit premiered at the New York Film Festival last fall before beginning a slow theatrical roll-out over the past couple of weeks.
Within French Exit, we're introduced to Frances (and her name is France, too!!) Price (Michelle Pfeiffer) — a woman who's just coming to terms with the fact that she no longer has everything she ever wanted.
There was a time when she did have it all. A time when, after marrying a rich husband (Ford v Ferrari's Tracy Letts), she could live a high-luxury lifestyle without having to care how much money she was spending. Did she truly love her husband? Maybe. Maybe not. What does it matter, really? He's been dead for the past 12 years and she's long since moved on.
There's a problem. After all this time, the bank has come to collect. They're here for everything. The money. The house. The possessions. All of it.
Frances, then, is left with "nothing" — not literally nothing, mind you. She's still able to sell some of her jewelry and earn a small pile of cash that's likely worth more money than most people will ever see in their lifetimes. To her, however, it feels like nothing.
No longer sure what to do with her life or if society will even have her, Frances accepts an offer from a friend to stay at an apartment in France.
Accompanying her is her son, Malcolm (Let Them All Talk's Lucas Hedges), who didn't really know his mother until he was around 12 years old, but has since become close with her. Malcolm is engaged to be married to a woman named Susan (The Father's Imogen Poots), which he hasn't gotten around to telling his mother yet, but decides to put that on hold for the France trip nonetheless.
They arrive overseas and quickly begin trying to figure out where they'll fit in, if anywhere. While Frances is impervious to making friends (she'd rather just spend the rest of the money and then die), they quickly find a dwelling of people to surround themselves with.
That dwelling is fairly large and familiar-looking supporting cast; including the incredibly funny Valerie Mahaffey as one of the first friends Frances makes when staying at the apartment, Danielle Macdonald as a medium they meet on the cruise ship, Susan Coyne as one of Frances' former acquaintances and Isaach De Bankolé as a private investigator who kind of randomly decides to hang around.
There's also a black cat, which Frances has owned for quite some time, that's staying at the apartment. HINT HINT. The cat is going to wind up being important. And not in the way you're probably expecting it to be.
It's got somewhat of a similar premise as that of Schitt's Creek, with the kind of tone or character disdain as HBO's Succession mixed with the wit and dry humor of a Wes Anderson movie, perhaps.
That's what they're going for, at least. French Exit is something that certainly feels like it could be an A24 release (it's actually being put out by Sony Pictures Classics) in that it's something some people might perceive as being a bit more of a "stuffy" kind of comedy.
Honestly, I found myself thinking it might be a little stuffy, too, just by judging from the trailer. They're going for a certain kind of tone that some audiences might not respond to — the kind of tone where the movie makes you feel like you have to "get it" in order to understand the joke.
For the first act or so, that's kind of the line French Exit walks on, too. It's not bad or anything like that; it's just something that feels a bit over-written and extravagant to the point where it's trying to be weird and quirky without really knowing how to do so.
When Frances and Malcolm make it to France, however, is when the film begins to shift. That's when it goes from something that's *trying* to be funny to something that actually *is* funny.
And, like, it's really funny, too, I thought. There's a certain kind of surrealist, absurd humor toward it that the trailer doesn't really let on to — one that slowly begins to show itself as the thing comes along, until things kind of just start going batshit crazy around the halfway point.
That's going to divide some viewers, I imagine, with one scene in particular being a pretty obvious marker of that division. For some, that scene will be completely unexpected and hilarious. Others will think that it belongs in a different movie, entirely, and in no way matches the tone of what they've been setting up. I'm finding myself somewhere down the middle. Why can't it be both funny and out-of-place, I ask?
The humor isn't the only draw toward French Exit, I'll point out. We aren't just laughing at Frances and Malcolm for being so horribly out of touch with reality. There's a certain kind of bitter sadness to this one, again similar to something like Succession, in just how out of touch they are.
Frances, who is marvelously brought to life by one of Pfeiffer's better performances as of late, is a complex character struggling through a lot of different emotions. Those emotions aren't always so prevalent at the start of the film — at first, she kind of just comes across as an extravagant weirdo who has a weird fascination with homeless people and doesn't understand how currency actually works.
As the film goes along and you start to peel back some of the layers of reasoning behind that, you quickly realize that, while she may be a part of the .1%, she's also an incredibly sad person. A sad person who, really, just needs some kind of stable connection in her life.
There are a few things that they do with that, then, some of which work and some of which don't. Ultimately, though, French Exit has more personality to it than you might be expecting. There's some spunk to this one, hidden beneath. A kind of spunk that worked well enough for me.
Rating: 7.5/10
---
Screen Savor: French Kiss
Gregg Shapiro | qnotes
Can you believe that Michelle Pfeiffer has never won an Academy Award? She's been nominated three times but has never taken home an Oscar. Her "Best Performance by an Actress in a Motion Picture — Musical or Comedy" Golden Globe Award nomination for French Exit (Sony Pictures Classics/Stage 6) is her eighth (she won for The Fabulous Baker Boys), but with fierce competition from Frances McDormand in "Nomadland" and Viola Davis in "Ma Rainey's Black Bottom," she's been shut out again.
In Azazel Jacobs' "French Exit," Pfeiffer draws on all her comedic gifts (and some of her dramatic ones, too) to make Frances, a deeply unsympathetic woman, worthy of our time and attention. Think Cate Blanchett's character in Blue Jasmine (which earned Blanchett an Oscar, a Golden Globe and a BAFTA).
Recently widowed, Frances is an itinerant mother and New York socialite who shows up at her son's prep school on the day he's about to be kicked out and sweeps him out the door with her. It's the first time they've seen each other in a long time, and this kind of event sets the tone for the rest of the movie.
Over breakfast in their Manhattan townhouse a few years later, Frances reveals to her son, Malcolm (Lucas Hedges), that she has a meeting with her financial guy and it doesn't look promising. She's right. "Every penny" in Frances' account, as well as her investments and property, now belong to the bank. She was warned years before but didn't listen. Now she's being advised to sell everything — jewelry, art and books — privately. You see, Frances' plan was to die before the money ran out, but she "kept not dying."
Malcolm has his own drama to deal with. He's engaged to Susan (Imogen Poots), but he still hasn't told Frances. On the night he decides to do so, Frances shares her news with him first — "we're insolvent."
There are signs of hope. Frances successfully sells everything and ends up with a good sum of cash. Her best friend, Joan (Susan Coyne), offers to let her and Malcolm move into her unoccupied Paris apartment. Having converted her dollars into euros, she announces to Malcolm that they are going to France. Malcolm, in turn, breaks the news to Susan, who doesn't take it well.
Frances and Malcolm travel in style, of course, aboard a transatlantic cruise. Along with the family cat, Small Frank. On the luxury liner, Malcolm meets and hooks up with Madeleine (Danielle Macdonald), a fortune teller in a tent who is too good at her job. Not only does she predict the death of one of the passengers, but she also recognizes something special about Small Frank (more about that later).
Frances and Malcolm settle into their Paris life. A confrontation with a rude waiter in a café has a fiery conclusion. A dinner invitation from expat Mme. Reynard (scene-stealer Valerie Mahaffey) gets off on the wrong foot but soon corrects itself in the best way possible. But the good feeling is short-lived when Small Frank runs out of the flat and into the unfamiliar streets. Mme. Reynard comes to the apartment to comfort Frances, but she's inconsolable. That is until she remembers Madeleine also disembarked in Paris, and they need to find her because of her connection to the cat.
Frances hires Julius (Isaach De Bankolé), a private investigator, to track down Madeleine who in turn will track down Small Frank. Why the obsession with the cat? Because the soul of Frances' late husband Franklin is in Small Frank. Once Madeleine is located, there's a séance where they talk to Small Frank (voiced by Tracy Letts) and attempt to establish a kind of closure.
Before you know it, Joan's apartment is suddenly crowded. Joan shows up because she thinks Frances will self-harm. Susan and her fiancée Tom (Daniel di Tomasso) arrive because Susan is likely still in love with Malcolm. The only thing taking up less space is Frances' stash of cash which dwindles daily.
If that seems like a lot to keep track of, it is. But here's what keeps the offbeat "French Exit" afloat: Jacobs and screenwriter Patrick DeWitt (who also wrote the screenplay to Jacobs' Terri from 2011) have made a movie that draws on only the best elements in Wes Anderson movies. Absurdity balanced with reality. Pathos offset by humor.
Rating: B+
---
The Art of Making a FRENCH EXIT
Frank Calvillo | CINAPSE

When French Exit first launched as the closing night selection of the 2020 New York Film Festival, it didn't take long to realize that not everyone was going to respond to the absurdist comedy. It was a suspicion confirmed by the early reviews that followed, nearly all of which praised lead actress Michelle Pfeiffer, but weren't sure how to react towards the film itself. Upon French Exit's New York and L.A. release this past February, it seemed early audience reaction was the same. It's a reaction that's easy to comprehend. The film's script blends more than a couple of tones and all but abandons the three-act plot structure in favor of one that's decidedly free-flowing while placing at its center a protagonist who isn't the warm and cuddly sort made relatable enough to where any audience member would want her as a best friend. Instead, French Exit's heroine represents the kind of emotional damage and human flaws mixed with acerbic humor that may rub some the wrong way, but serves to make French Exit the enchanting surrealist screwball comedy that it is.
Directed by Azazel Jacobs from Patrick DeWitt's novel, French Exit sees Pfeiffer playing Frances Price, a Manhattan socialite existing under the shadow of scandal stemming from her late husband's (Tracy Letts) death and the part she played in it. Living with her directionless son Malcolm (Lucas Hedges) on what's left of their inheritance, things take a turn for the dire when Frances is informed that her fortune has nearly run out, causing mother, son and family cat to sell what they can and relocate to a friend's (Susan Coyne) apartment in Paris. Once there, they attract the attention of various characters including a psychic (Danielle Macdonald), a private investigator (Isaac De Bankolé) and a cooky American expat named Madame Reynard (Valerie Mahaffey).
Much like the novel it comes from, French Exit is an undefinable sort of cinematic cocktail. This is especially true when it comes to its differing tones. The film is somber and poetic one moment before becoming darkly comedic the next. Influences of Woody Allen and Luis Bunel are apparent here, especially among the movie's supporting characters, none of which can be considered as anything close to cookie cutter. As everyone finds themselves setting up shop in the Paris apartment, inexplicably drawn to the story's central pair, the film's various colors can't help but continuously show with every moment.
French Exit is melancholy, humorous, bewitching and whimsical scene by scene thanks to the world it creates; a slightly heightened reality with one foot slightly off the ground where people are guided by instinct and feeling rather than logic and practicality. It's the kind of world where Frances and Malcolm will hire the aforementioned private investigator to find the psychic, who proceeds to conduct a seance at the dining room table before the film eventually cuts to the whole group having drinks together in the same apartment four days later never having left it. Such events in French Exit are so wonderfully random and intriguing due to the sheer lunacy of them, that it might be easy to forget that the film is partly about lonely people reaching out to find some sort of human connection and end up finding it in a room full of strangers.
If there's one element about the film that's all but impossible to dismiss, it's Frances. As a character, there's hardly been a screen heroine that doesn't offer up a myriad of personal reactions. At first glance, Frances is…a lot. She cares very little about what she says, who hears it or how it's perceived. After she's been rude to Madame Raynard, who is hosting them for dinner, Malcolm calls out his mother's rude behavior to which she sarcastically replies: "Isn't it awful," evoking the driest of humor. For Frances, it's humor that has been her only weapon in a world which she feels has never had any use for her, regardless of how much money she's had. For her entire life, money and all its trappings has been how Frances has defined herself and now that it's vanished, she suspects she will soon follow.
But Frances is also a mother with a son she loves in her own way and vice versa. The relationship between her and Malcolm is an odd one which could well be called co-dependent if it weren't for the fact that despite the pair's closeness, they've remained largely strangers since Frances picked up her son from boarding school following her husband's death. By the time the film reaches its end, French Exit has waded through the eccentric characters and odd happenings to be a story of a mother and a son with their own language finally finding each other. A late scene in the kitchen spells this out beautifully with Frances at her most open. When Malcolm asks her why she came for him that day, she says: "That was strange, wasn't it," with a coy smile before adding: "I didn't know you were you. I would have come right away if I had. I never would have let you go in the first place."
To say Pfeiffer steals the show is a grave understatement. Her hold on the character is so strong and captivating, that there simply wouldn't be a French Exit this spellbinding without her stunning interpretation. The way the actress holds her face, fixes her gaze and delivers the film's wickedly clever dialogue with that unique inflection results in one of the best performances of both the year and the actress' career. Her reading of such a tricky character is pitch perfect and in Pfeiffer's hands, Frances's pain and humor shine through beautifully. As her partner in crime, it would seem that Hedges has very little to do besides gaze in awe at his legendary co-star, but the young actor brings a soulfulness and a longing to Malcolm that's surprising and cannot be mistaken, furthering his standing as one of the best young actors working today. Each member of the supporting cast get a moment or two to leave an impression which shows their participation wasn't for nothing. But Mahaffey is the only one able to come close to stealing scenes as a woman seeped in romantic ideals and who cannot help but wear her heart on her sleeve.
One of the biggest stumbling blocks French Exit will have with modern audiences is the fact that its protagonist doesn't fit into the need most American audiences have to see themselves on the screen. Frances likewise doesn't adhere to the notion today that people are essentially black and white; a bad guy or a good guy. The reality is that almost everyone lives in a sea of grey with flaws and foibles which are a part of their character, but ultimately don't wholly define them. French Exit knows this to be true and has offered up such a heroine who has long been defined by a world she's loathed for most of her life that no longer exists. Frances is caustic, unfiltered and doesn't suffer fools easily. But she's also vulnerable and tragic. She's made made so by the fact that she's spent her entire life building up a protective wall against a society that in the end has no use for her and where her future is almost certainly uncertain. She may not be the most approachable character to grace the screen in recent times, but in her own way she's almost definitely one of the most alluring and heartbreaking.
---
FRENCH EXIT is another showing of the great versatility and swagger of Michelle Pfeiffer.
AMovieGuy.com's RATING: 3 STARS (Out of 4)
On my second viewing of French Exit, it hit me that there was not a single actor, not Glenn Close or Meryl Streep, nobody that could play the lead role of Frances Price other than Michelle Pfeiffer. The Age of Innocence, Batman Returns, Dangerous Liaisons actor has found a way to be one the best in cinema working today and yet, it still feels she hasn't been given her due credit. In French Exit, she plays a wealthy New York socialite, who has a reputation for being a tad bit eccentric, whose life turned when her husband (Tracy Letts) passed away, and instead of calling the police, she left the house to process things for a few days. Her relationship with son Malcolm (Lucas Hedges) is also strained, where the connection has been a bond of codependency, and when the money starts to dry up, Frances decides to move to Paris to spend everything she has till it's gone. Once we get to Paris, it seems that more odd, different, quietly delightful characters find Frances and Malcolm, and the outcome is a collection of lonely people, living life on their own terms. French Exit is a sardonic, witty, and unique study of human characteristics, directed by the ever curious artist Azazel Jacobs. For many reasons, French Exit is a delightful getaway.
The opening sequence begins where Frances picks up Malcolm from his boarding school, telling him that his father has died, and that if he sticks with her, the two of them are going to be alright. We can tell that Frances is someone that walks to the beat of a different drum and unfortunately for Malcolm, he's been too shy to ever break away from his mother, even as he's gained his own independence. His girlfriend Susan (Imogen Poots) wants him to grow up, make a decision for himself, and the two of them can go away together. He can't do that to his mom, and when Frances knows the wealth is drying up, she basically gives up on everything. Although French Exit is an often cold and depressing tone, it's the way that Frances begins to grow through a change in her lifestyle. There's something incredibly beautiful in the growth of these characters.
The screenplay is written by Patrick DeWitt, based on his book of the same title, who had already worked with Azazel Jacobs on his earlier film Terri. The two movies are not far from one another in themes, where it's a story of younger generations' connection with older generations and the bonding of unlikely friendships. The trip to Paris begins on a cruise ship, with Malcolm having a romantic swing with a medium named Madeline (Danielle Macdonald), and Frances enjoys drinks with the ship's captain, all while trying to hide her black cat in her purse. It's soon after they arrive in Europe where new people keep intruding into their lives. The days for Frances are a slow saunter to being penniless, tipping people too much for anything, but when she receives an invitation from a woman named Madame Reynard (a scene stealing Valerie Mahaffey) the tides shift and French Exit becomes a gathering of lonely people looking for other lonely minded characters. Down the road they lose the cat, forcing Frances and Malcolm to seek out the Medium to conduct a seance to locate the feline, that may or may not have the spirit of her dead husband inside him. Strange enough for ya?
It is because of that strangeness, that unpredictable wit that keeps French Exit enjoyable. The majority of that pleasure comes from observing Pfeiffer, who adorns a brown and maroon fur coat, which fits perfectly with her sharp-cat eyes that say, "please, do not mess with me", along with raspberry red hair and fierce stares. It's not that Pfeiffer's character is ever truly mean, but instead someone that won't fuss over the bullshit of the world. All of that calmness, that collective cool is pure Pfeiffer, whose performance is delightfully wicked, her very presence commands our attention. As far as Pfeiffer's performances go, she's flat out fantastic in French Exit.
Even then, the entire variation of characters in French Exit will either work for some that find the various players interesting and others that find them too odd. I am on the side of constant intrigue, where Azazel Jacobs does an excellent job, crafting a narrative around a myriad of people that could have their own story. The director of The Lovers has created a filmography that is on par with the Noah Baumbach's or Cohen Brothers of the world. Soon we will be saying, "oh this is an Azazel Jacobs picture". It's because his movies show a different kind of person, a new way of discovering relationships, and that's everything we get and more in French Exit.
---
Michelle Pfeiffer at the top of her game in 'French Exit'
"French Exit" – ★ ★ ★
Is there any living actor better at the disdainful eye roll than Michelle Pfeiffer? Her latest turn in "French Exit" should end all debate on the matter. The film itself is a bit of an odd duckling. It's arch, cold and self-consciously contrived, and works more often than it doesn't. Pfeiffer is flawless in her most delicious performance in years as a New York society woman who has, much to her aloof annoyance, run out of money.
Pfeiffer's Frances Price is a dying breed, literally and figuratively, a refined and caustic socialite. She's the kind who would never lower herself to something as uncouth as a certain reality show franchise. Even the word socialite is probably vile to someone like Frances. She's been coasting through her own life in the 12 years since her husband's death. And now she's found herself living out a cliché she wasn't prepared for: Her money is so old, it's gone.
She'd planned to die before it ran out, she says, but then she just kept on living. Now broke, she has no choice but to quietly sell everything for cash and flee on a transatlantic crossing to a friend's luxurious apartment in Paris with her dilettante son Malcolm (Lucas Hedges) and striking black cat, Small Frank, in tow. It's unclear how Hedges ended up as a crossing companion to older female relatives in two movies this year (including opposite Meryl Streep in "Let Them All Talk"), but it's a role he wears comfortably. And Malcolm and Frances are a more eccentric bunch: They drink martinis, wine and champagne all day every day, they go to leisurely lunches, they over enunciate their consonants and use contractions sparingly, and denim does not seem to be in their vocabulary or their wardrobes.
And there's an even quirkier ensemble that comes together in Paris: The deadpan psychic (played amusingly by Danielle Macdonald), who has an uncanny knack for predicting deaths, of which there are more than you'd think on a standard cruise ship; the earnest widow (Valerie Mahaffey) around the block who sets out to befriend Frances after years of worshipping her from afar; a private detective played by Isaac De Bankolé; Malcolm's girlfriend (Imogen Poots), whom he left behind in New York. But this is no mere Whit Stillman/Wes Anderson homage. No, it's much weirder than that. The cat, for one, is (probably) Frances' dead husband Frank reincarnated. And, yes, Small Frank is voiced by Tracy Letts.
"French Exit" is a collaboration between director Azazel Jacobs and author Patrick deWitt, who adapted his own novel for the screen. As I mentioned previously, it doesn't always work, but the writing is sharp, the performers top-notch and the set designs achingly beautiful. And how can you quibble too much with a film that is such a wonderful showcase for Pfeiffer? There is unambiguous joy in watching her wage and win a silent battle with a snobby French waiter (her weapons include spray perfume and a lighter), sure, but there are subtle moments too. Frances is not just a one note rich lady, and somewhere within all the artifice and pretention, there is a surprisingly moving tale about living while knowing that death is imminent. Not since Darren Aronofsky's "Mother!" has she had a such a great showing. It's truly a mystery why she missed out on an Oscar nomination for this one, but I hope it's a reminder to filmmakers out there that Pfeiffer is still at the top of her game. She just needs something to sink her teeth into.
---
Review: Michelle Pfeiffer fans won't be disappointed in French Exit
Hollywood queen Michelle Pfeiffer is back on the big screen in a new film called French Exit, a role which earned her a Golden Globe nomination.
New Zealand audiences can see why she so richly deserved that accolade with the film now showing here.
There is just something charmingly and disarmingly bonkers about French Exit and if that's your cup of pastis, then voila, this is the film for you.
The marvellous Pfeiffer dusts off her expensive furs, fixes us all with a withering look and cuts us to the core with her acerbic tongue. Frances Price is indeed one very unique woman.
Her days as the queen of the NY set are over, she's broke and must escape to Paris with her cat and her son and her remaining box of cash.
What they might discover there, about each other and themselves is anyone's guess and, refreshingly, it kept me guessing all the way through.
A curious oddity of a film, French Exit certainly won't be for everyone but get it in the right mood and the surreal dark comedy may well tickle the funny bone.
Pfeiffer fans will not be disappointed in her French Exit. She's an absolute delight offset tremendously by Lucas Hedges. A little bit weird, and a little bit wonderful.
Three-and-a-half stars.
---
French Exit: Michelle Pfeiffer shines in tonally odd trans-Atlantic tale
James Croot | stuff
French Exit (M, 113mins) Directed by Azazel Jacobs ***
Frances Price's (Michelle Pfeiffer) lavish lifestyle has finally caught up with her.
As her financial advisor reminds her, the lack of financial liquidity should definitely not come as a surprise.
"We've spoken about the possibility for seven years – and the actuality for three," he intones. "Well, the plan was to die before the money ran out," she snaps back without missing a beat.
So reluctantly, the widow and mother-of-one's books, art and jewellery collections are all placed on sale, the resulting cheques converted to Frances' preferred currency of cash.
But while that might solve one particular crisis, the damage to her reputation around New York is something she can't abide. Being labelled difficult and odd are badges she's worn with pride, but as word spreads ("the hens are clucking," she muses) of her money troubles, Frances knows it's time to relocate.
Salvation comes in the form of her friend Joan (Susan Coyne), who offers up her apartment in Paris. Armed with a bag full of banknotes and her drugged cat "Small Frank" (in order to slip him through customs) and accompanied by her ever-obedient adult son Malcolm (Lucas Hedges), Frances sets sail for a new life. Although, breaking her old habits prove somewhat more difficult.
With its cadre of badly behaved eclectic, eccentric characters, distinctive dialogue and aesthetic of declining opulence, director Azael Jacobs' (TV's Mozart in the Jungle) feature reminds one of the works of Wes Anderson or Woody Allen. French Exit definitely has a more New York than Hollywood feel to its narrative beats and world-view.
Adapting his own 2018 book, Canadian writer Patrick deWitt's examination of a high society woman struggling in her "third act" or "coda" (as she puts it) certainly will have its admirers, especially given Pfeiffer's eye-catching performance. Over the years, she's proven her ability to play complex and sometimes unlikeable characters (for every Susie Diamond or Selena Kyle, there's been a Ellen Olenska or Tally Atwater) and Frances is definitely one of her finest turns.
And yet, even she struggles to keep you fully engaged as the story takes a series of narrative left turns into the supernatural and surreal. Some of the supporting characters feel rather sketchily drawn (Danielle Macdonald's psychic particularly one-dimensional), while the farce eventually overwhelms the more interesting psychodrama.
In the end, a promising premise ends up getting slightly stuck between a Noel Coward-esque comedy and a Billy Wilder tragedy.
---
OUT NOW: Michelle Pfeiffer's tremendous central performance, full of camp and acid and sadness, would be enough of a reason to see 'French Exit', but it's all the more rewarding for how complete an experience it is.
Daniel Lammin | SWITCH
SUCCESSFULLY playing with the surreal and ridiculous requires the steadiest of hands. When they're employed lazily, they can be amusing at best, off-putting and incongruous at their worst, but used carefully, they can allow us further in to the inner lives of the characters, amplify the thematic intentions of the film and offer moments of wild, thrilling entertainment. 'French Exit', the latest film from director Azazel Jacobs, sits very much in the latter camp, offering one of the most purely entertaining and surprising films of this year so far.
Widowed New York socialite Frances Price (Michelle Pfeiffer, 'Batman Returns', 'Dangerous Liaisons') has been living for many years off her inheritance from her deceased husband, along with her unusual son Malcolm (Lucas Hedges, 'Ben is Back', 'Lady Bird'). When the money finally runs out, Frances and Malcolm take up the offer of Frances' only close friend Joan (Susan Coyne, 'The Man Who Invented Christmas') to live in her apartment in Paris. Selling everything and hiding their cat, they relocate to Paris, where Frances' eccentricities bring a whole new collection of characters into their lives.
Adapted by Patrick DeWitt from his own novel, 'French Exit' has a gorgeous theatricality mixed with a careful cinematic eye; a mix of Moliere, Pinter, Chekhov and Christopher Durang. Frances' journey is an eternal search for a quiet place to just live her life as she pleases, and the beauty of that journey is that it is one she so thoroughly does not want to be on. She is a woman of enormous privilege which blinds her – along with her malaise and mental illness – from the sudden and crushing entrance of reality. Even in the midst of homelessness, she refuses to accept her change of circumstances, and in many instances, seems intent to help her destruction along. Frances has had enough of the world, of the exhaustion of human interaction and the complications of relationships. In fact, she'd rather like to leave it as soon as possible, with Malcolm her only kind of anchor, but try as she might (and by god, she tries), she cannot help the pull of life and connection, and the quiet beating of a good-hearted nature she'd rather ignore. Those that are pulled into her and Malcolm's orbit are likewise looking for somewhere and someone to belong to, including the even-more eccentric Madame Reynard (Valerie Mahaffey, 'Sully') and Malcolm's confused and put-upon maybe-fiancee Susan (Imogen Poots, 'The Father'). As the film trots along at a lively pace, a newfound family begins to amass in the Paris apartment, a warm and wacky collection of lost souls with the begrudging Frances at the centre.
These ingredients would be enough to make for a charming character piece, but where 'French Exit' excels in its embrace of magic realism and the surreal. It begins in Jacobs' approach, the careful way in which he and cinematographer Tobias Datum frame every shot, a marriage of Wes Anderson and Edward Gorey. Datum fills many of the interior spaces with shimmering artificial light, giving an almost magical quality to production designer Jean-Andre Carriere's gorgeously realised rooms. It's also there in the performances, perfectly calibrated to fall in line with the tone of DeWitt's script and Jacobs' direction. There's always a touch of the unreal about 'French Exit', and this serves it beautifully when the touches become dollops. We're gifted to a delicious series of surprises, some gorgeously strange and others outright bonkers, but the film has earned all of them and thematically justifies them.
Central to its success is the spectacular performance from Michelle Pfeiffer, proving once more (as if we need reminding) what a singular and stellar actor she is. Frances, a maniacal vision with red hair and expensive furs and an eternally-lit cigarette, gives Pfeiffer the opportunity to indulge in the kind of delectable camp she always excels at, chewing every piece of scenery in her path while never losing sight of Frances' melancholy and tragedy. Amid the withering looks and devastating put-downs, Frances is in pain; a lost woman seeking something to give her life some sense of meaning and purpose, to be seen and loved and appreciated. She's a pissed-off Blanche DuBois in the autumn years of her life, desperate for something she can't define and with absolutely no patience for the bullshit that comes with having to deal with other people. Pfeiffer knows exactly what this character and this film needs, and every moment she appears on screen is undiluted, uninhibited joy. She's beautifully matched by a supporting cast that eventually transitions to her ensemble – Lucas Hedges lets his hair down (literally and figuratively) as Malcolm, reminding us how sardonically fun he can be when he's allowed to, and Valerie Mahaffey milks every hysterical moment she appears with such astounding skill that you can't imagine how anyone kept a straight face on set. Acknowledgement must also be made to Frances and Malcolm's cat, Little Frank, the unexpected delight (and centre) of the film.
"It had me roaring and cackling with laughter, totally enchanted by its irreverence and good humour."
I really can't do justice to just how thoroughly entertaining a film 'French Exit' is. It had me roaring and cackling with laughter, totally enchanted by its irreverence and good humour. You feel as if you're watching a great piece of classic theatre, where silly rich white people bumble around in fancy rooms, unaware that they're revealing, with their silly irrelevant lives, just how strange and beautiful life and love and sadness and happiness can be. Michelle Pfeiffer's tremendous central performance, full of camp and acid and sadness, would be enough of a reason to see 'French Exit', but it's all the more rewarding for how complete an experience it is. The ridiculous and the surreal are employed for the purpose for which they are always at their best – to make us laugh at how silly life can be, and sigh at the truth that, no matter what, we want to keep living regardless.
---
'French Exit' MOVIE REVIEW: Michelle Pfeiffer is Fantastic in Biting, Deadpan Dramedy
In French Exit, fantasies of death and all-consuming flame occupy the mind of Frances (Michelle Pfeiffer), a Manhattan-based widow and mother-of-one with a penchant for the macabre.
Sans spoilers, you'd be forgiven for thinking Frances were a witch, be it her endless array of fashionable coats, bright auburn hair, and ability to disarm with a glance (an effort she demonstrates as naturally as blinking).
This sense of oddness, the likes which director Azazel Jacobs embraces with a chokehold grip – albeit somewhat forcefully – is peppered throughout French Exit, and follows Frances and her pliant son, Malcolm (Lucas Hedges, who blurs more-and-more into Steve Zahn with every film), as they experience a change-up from their lavish Manhattan lifestyle. Accustomed to extravagant parties, caretakers, and fabulous households bound in majestic timber, they find themselves evicted into the comparably more quaint surrounding of a Parisian loft.
Accompanying them is a motley crew of fellow oddballs, including aloof fortune teller Madeleine (Aussie Danielle Macdonald); former Manhattan socialite and number-one admirer of Frances Madame Reynard (Valerie Mahaffey, giving new meaning to having a chilling secret); and Little Frank, the family cat with his own offbeat history. All of these formidable beings (cat included), coupled with those from Frances' past (roles played by Imogen Poots, Susan Coyne, and Daniel Di Tomasso), render as compatible with screenwriter Patrick deWitt's vision of an emotionally sterile-yet-biting comedy. DeWitt holds all punches till they punctuate with maximum, heart-crushing effect; he balances the neglect of Malcolm's upbringing – the tremors of this impacting his relationships into adulthood – and runs it in tandem with Frances' mental downfall.
Jacobs, whose previous work includes relationship comedy The Lovers, doesn't place pity upon Frances and Malcolm. As Frances narrows the financial gutter, poverty becomes an interest of hers, as seen in her series of interactions with people who would traditionally fall outside of her Manhattan bubble. The mighty may have fallen, but in the case of Frances, her downwards mobility is graced by a series of cushioned landings that are afforded to her by her wealth and privilege.
For Pfeiffer, French Exit serves as her comeback spectacular (and yet another supernatural outing involving her appreciation of cats). Her piercing performance as Frances, whose immense financial and personal loss generates most of the film's hysteria, overcomes any semblance of initially presented haughtiness. Her cutting comments are played as laughs and represent deeper cries for help. The effect burgeons to create a well-dimensioned character that, despite her damage (a motif Jacobs creatively expresses through the depletion of cash) and affinity for sharp objects (audience nerves literally teetering on a knife's edge), expresses profound care for the people in her life. All of this without raising her voice past room temperature.
Through Pfeiffer, Jacobs composes a sombre deadpan dramedy that explores the manner we hold onto grief and the insecurities of wealth. French Exit as humorous as it is crushing – as if the filmmakers envisioned the darkest moment of a Wes Anderson film and stretched it into a 110-minute film.
4.5 STARS
---
FRENCH EXIT is an interesting rollercoaster of absurdism, and Michelle Pfeiffer is the perfect anchor for it all.
French Exit is a surreal film to watch unfold. Directed by Azazel Jacobs and based on the book by Patrick DeWitt, the story subverts expectations at any given moment. Weaving through humour and tragedy, the film takes wild turns as a comedy of errors pushing towards unpredictability. While not always easy to jump on board and embrace the ridiculousness of it all, Michelle Pfeiffer proves to be the perfect anchor. She plays Frances Price, a Manhattan socialite whose life is on the verge of falling to pieces. Faced with major financial troubles as her inheritance is running out, she takes up a friend's offer to move into a small apartment in Paris with her son Malcolm (Lucas Hedges) and their cat. While there, we are introduced to loose acquaintances and loved ones, as they start scratching the surface of an enigmatic, larger-than-life protagonist who plays her cards close to her chest. So much of this film is about what isn't said between people, which brings up an intriguing question of what the characters are choosing not to reveal. French Exit is full of eccentric characters interacting in a world where nothing is as it seems. DeWitt's story gives the supremely talented Michelle Pfeiffer, along with a strong supporting cast, an interesting chaotic canvas to work with.
Frances is the star of her own show. Every move she makes is followed by a spotlight, as she performs center stage of her own life to the point where her character feels theatrical. It's a larger-than-life role that Pfeiffer plays the absurdity of to entertaining degrees, from her zinging line deliveries to the way she carries herself. She keeps the laughs coming, that is until her circumstances become more and more reflective of the distress she feels (particularly towards herself). Pfeiffer balances on a fine line between portraying someone who lives such a narcissistic existence and who is also haunted by her past choices. Having remained absent from her son's life for most of his childhood, her decision to pick him up from school out of the blue one day (as shown in a flashback scene) rejoins the two but can't make up for lost time. For most of the film, Frances and Malcolm speak to each other matter-of-factly in brief moments. Their relationship is a reflection of things that never really get to be said, particularly between a parent and child. Only until Frances realizes the substantial passing of time, and how much she loves her son, are they able to have a more revealing conversation addressing why she left in the first place. Pfeiffer and Hedges share an interesting monologue where these two characters are faced with her reasoning. It's one of the few moments in the film that provides a clearer window into the vulnerability of Frances especially, who carries herself with all-encompassing grandeur.
The story of French Exit, which Patrick DeWitt adapted for the screen, builds structure around characters who exist often in their own worlds. With an increased focus on Frances as the protagonist, everyone in her orbit seems to exist based on what they mean to her (and her son) and how they fit specifically in her world. Everyone in her orbit (whether related by blood or by fantasized friendship) is vying for something to say, without really knowing how best to say it. Their dynamics raise an interesting train of thought about the influence Frances has on others, and about what people project onto her. After the move to Paris, Frances and Malcolm get invited to a party, which she expects to be a glitzy high society gathering. But when they arrive, they realize it's a party of three with Mme. Reynard (Valerie Mahaffey), one of Frances' long-time admirers from New York who thinks they ought to be friends. This "party" sequence is a fabulous example of how much acting relies on reacting. Mme. Reynard is a lonely widow who sees an opportunity for kinship with Frances; they're just about the same age and presumably ran in the same socialite circles back in New York. She misses the Manhattan socializing, and so discovering Frances' move to Paris opens up a world of possibilities for her to live again. Pfeiffer and Mahaffey play off each other so brilliantly; their scene is one of many moments in the film that is full of disengagement, curiosity and eccentricity as these characters find each other under odd circumstances. The disengagement in particular is so extreme throughout the film that even when otherworldly elements are introduced later on in the story, the characters are completely unfazed.
In addition to the strained mother-son relationship, there's an underlying resonating theme of craving for connection without knowing how best to achieve it. The characters in this film interact and are brought together in such an unusual way. The story sprawls into a big ensemble piece halfway through where everyone vies to make sense of their circumstances and determine where they fit. It's an ensemble of great actors including Imogen Poots, Danielle Macdonald, Susan Coyne, Isaach De Bankolé, and Tracy Letts. Among the cast, the supporting star of the show is indeed Valerie Mahaffey who steals every scene. Mme. Reynard is a great supporting role that pushes for authenticity and sincerity in the most absurd of moments. She so badly wants a connection to Frances and as the film progresses, makes herself at home in Frances' apartment, a setting that becomes almost like a magical realm in which everyone who enters seems to stumble upon some insight about themselves.
While the absurdity of the story makes for some fun exploration of where these characters will end up, it is sometimes a chore to find an emotional connection beyond Pfeiffer and (to a lesser extent by way of screen time) Mahaffey. French Exit is a strange melancholic journey, one that entices yet pushes away as circumstances grow more absurd. The story takes a big turn halfway through, and nothing is what it seems especially from that point forward. But the consistent anchor is Michelle Pfeiffer's performance, an entertaining concoction of emotions that play humorously until the mask is off and Frances' ghosts come back to haunt her. French Exit is an interesting rollercoaster of absurdism about larger-than-life characters who are searching for real connections to each other.
---
Michelle Pfeiffer is at her glamorous best as a wacky widow in new movie
FRENCH EXIT ★★★★
M, 113 minutes
Manhattan socialite Frances Price (Michelle Pfeiffer) has all the gloss money can buy but she also possesses qualities far beyond the reach of any credit card – wit and a strong maverick streak.
On discovering her unloveable husband, Franklin (Tracy Letts) has died of a heart attack, she takes one look, retreats in shock, disbelief and a measure of disgust and goes off on a skiing weekend, as planned.
But she does have a softer side. In the early scenes of French Exit, she is crossing Central Park with her son, Malcolm (Lucas Hedges) and she meets a homeless man who requests a handout. In response, she asks him what he would do with twenty dollars and he candidly answers that he'd probably buy wine, cigarettes and a hot dog and consume them while sitting under the stars. Satisfied that the money will be well spent, she hands it over and moves on. But first she briskly sees off the policeman who's had the gall to ask if the man was bothering her.
Adapted from his own novel, Patrick deWitt's screenplay picks up the story of Frances and Malcolm 12 years after Franklin's death. Her lawyer has just told her the money is close to running out and there's nothing for it but to sell up, take the cash and live as modestly as she can. But how? She has no idea until her best friend offers her and Malcolm her apartment in Paris.
DeWitt's confection of quiet sophistication and unabashed wackiness can't have been easy to duplicate on the screen and director Azazel Jacobs, a friend of the writer, doesn't quite manage it. Underlit and a little slow for the snappiness of deWitt's dialogue, at time the film loses sight of where it's heading but Pfeiffer gives you plenty to watch while it's making up its mind. She skilfully reveals what's going on under Frances's glamorous carapace, illuminating her troubled inner life by manipulating every pause and further honing deWitt's lines by making every inflection count.
Malcolm has been mesmerised by her since he turned 12. This was the age she first paid him any attention, taking him out of boarding school to live with her. They have been inseparable ever since to the frustration of Malcolm's girlfriend, Susan (Imogen Poots), who's about to give up on him because he can't bear to tell his mother that they're engaged.
The two leads are backed up by a small but effective ensemble cast made up of the eccentrics they encounter in Paris. First up is Mme Reynaud (Valerie Mahaffey), an expatriate New Yorker who has been following Frances's adventures and misadventures in Manhattan society for years and has become an avid fan. And the size of the group expands to admit Julius (Isaach de Bankole), a private investigator, and Madeleine (Australian actress Danielle Macdonald), a clairvoyant, after Frances's cat, Small Frank, goes missing.
Since she firmly believes the cat embodies the spirit of her dead husband, she wants him back – despite Franklin's many flaws.
Like Frances herself, deWitt's screenplay disdains any form of emotional analysis. You're left to pick up clues as you go but it's pretty clear from the start that its main theme has a lot to do with death and its aftermath.
Frances had expected to be dead by the time her wealth was exhausted and Madeleine, the medium, interests her because she has a proven gift for predicting when death can be expected to arrive. What's more, the séance she arranges succeeds in conjuring up Franklin's disembodied voice. While he once worried about finance and litigation, he's now tormented by worms and fleas. "Frances, I'm a cat," he grumpily replies when she tries to elevate the conversation.
As to Frances's love for Malcolm, that, too, is an open question. There is a hint that she wants him to find his independence because she cares, but it's only a hint. You're free to interpret it as you see fit. In essence, I suppose you could judge the film as a victory of style over substance but for once, that's no bad thing.
---
French Exit is a tribute to Michelle Pfeiffer's career playing characters busting out of their glamorous facades
Among the many depressing phenomena of 21st-century Hollywood — theatres facing extinction, movies turning into content, the dominance of the Marvel Cinematic Universe — few have hurt more than the relative absence of Michelle Pfeiffer, one of the industry's greatest stars during its pre-millennial twilight.
A California-blonde movie star with the oddball range of a cracked character actor, her high-wire mix of luminous beauty and loopy neurosis should have been a no brainer for a run of rich, multi-dimensional middle-age roles. But thanks to a combination of self-imposed semi-retirement and the usual middling prospects for most actresses of her age, there would be no ongoing, Streep-like career, just a smattering of bit parts in IP-extenders like the Disney's belated Maleficent sequel.
(The rare exceptions — an irresistible turn as a Machiavellian beauty queen clinging to tradition in the remake of Hairspray; her career woman grappling with the gendered politics of ageing in Amy Heckerling's I Could Never Be Your Woman — only served to remind us what we were missing.)
Quite a bit of this career meta-text circles indie director Azazel Jacobs's French Exit, a character piece that finds an ageing, once glamorous woman gathering dust as she drifts into a kind of gilded oblivion.
Auburn of hair and attire, Pfeiffer is Manhattan socialite Frances Price, a widow whose husband's death a decade earlier has left her with a vaguely estranged twenty-something son, Malcolm (Lucas Hedges), and an ever-dwindling reserve of money.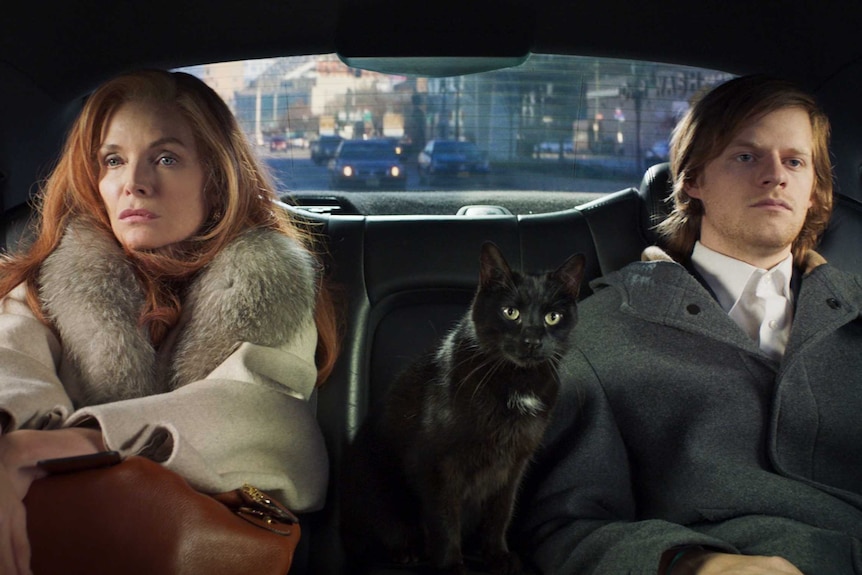 Frances is enduring — to echo the words of another batty Pfeiffer socialite, the matriarch of Tim Burton's underrated Dark Shadows — but that's about to end, with the bank foreclosing on the house and advising her to sell off whatever personal effects she can as a means of survival.
But for Frances, that's merely a hiccup on the road to nowhere, a destination this once glamorous spirit seems to be resigned to pursuing.
"My plan," she tells her puzzled financial advisor, in classic Pfeiffer deadpan, "was to die before the money ran out."
If Frances is odd by her own admission, then she's downright weird, even otherworldly, to her social circle. She served a stint in jail for failing to report her husband's corpse. She sharpens kitchen knives in the dark because she relishes the sound it makes.
Even the secondary characters are in thrall to the strange whims of her energy: Malcolm's fiance, Susan (Imogen Poots), gets left in the cold because he's too in awe of his mother to break the news of his engagement.
Completing the skewed family portrait is Frances's black housecat, "Small Frank", who arrived the day of her husband's death and, she suggests, carries the soul of the departed, clinging to her side like some familiar spirit of folklore.
Selling her few personal assets for a bag full of cash, Frances makes the departure of the title, which turns out to be both figurative and literal: she, Malcolm, and Small Frank board an ocean liner bound for Paris, where — taking up residence in a friend's empty apartment — she intends to farewell both her remaining money and time on the mortal coil.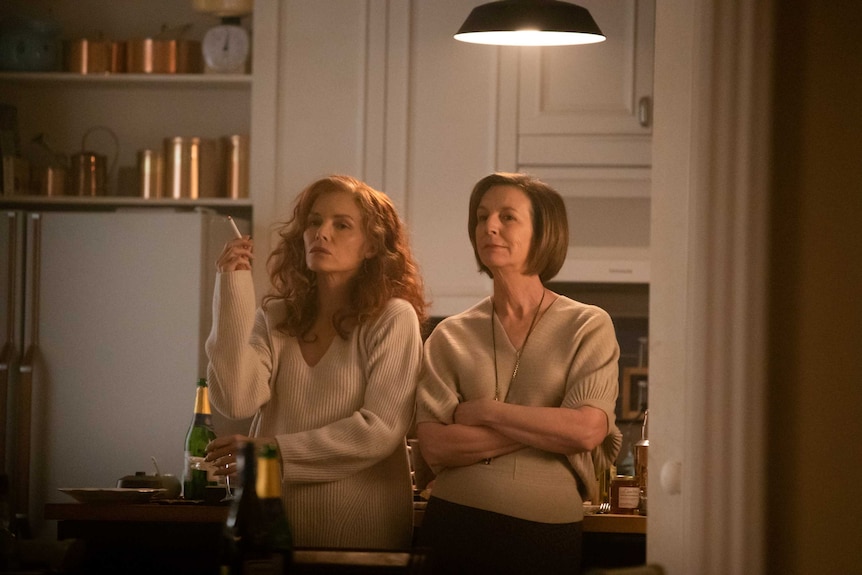 As befits a movie named for a ghostly party departure, there are premonitions and a dash of the psychic running through the film, giving it the feel of something faintly charmed — a dark fairy tale by any other name.
On the trans-Atlantic crossing, a sozzled doctor who may as well be death's ferryman piles up corpses in the ship's meat locker as he ushers elderly vacationers on to their final destination, while a resident fortune teller, Madeleine (Australian actress Danielle Macdonald), locks eyes with Small Frank and has a vision of his unearthly plight.
Even Paris is less romantic postcard than nervy purgatory.
In an early moment sure to scuttle any notions of the city of love, Frances responds to a waiter's snotty, anti-American attitude by spritzing the cafe's plastic flower arrangement with perfume and then torching it with her cigarette lighter.
Selina Kyle would be proud.
There are few actors who could play Frances quite like Pfeiffer; few who could take this potential caricature and elevate it above the film's tired milieu of the idle rich, with their button-down shirts and quirky-'cause-they-can-afford-to-be affectations.
Her Frances is unpredictable, rebellious: someone who's never fit into her world of wealth, though we're never quite told why.
Pfeiffer isn't especially likeable, either, at least not in that contemptible, screenwriting seminar sort of way — she delights in mocking a lonely American expat desperate for a friend (an endearingly annoying, and then just plain annoying Valerie Mahaffey), and hands out wads of cash to Parisian homeless men for reasons that don't always seem altruistic.
There is a mother-son reconciliation of sorts, but it's hardly standard issue — neither Pfeiffer nor Hedges are performers given to playing the obvious hand, and their familial bond is more of a mutual admiration of each other's oddity; an acknowledgment that they're both damaged by the same environment (and man). (The film complements On the Rocks, Sofia Coppola's recent ode to an offbeat New York patriarch.)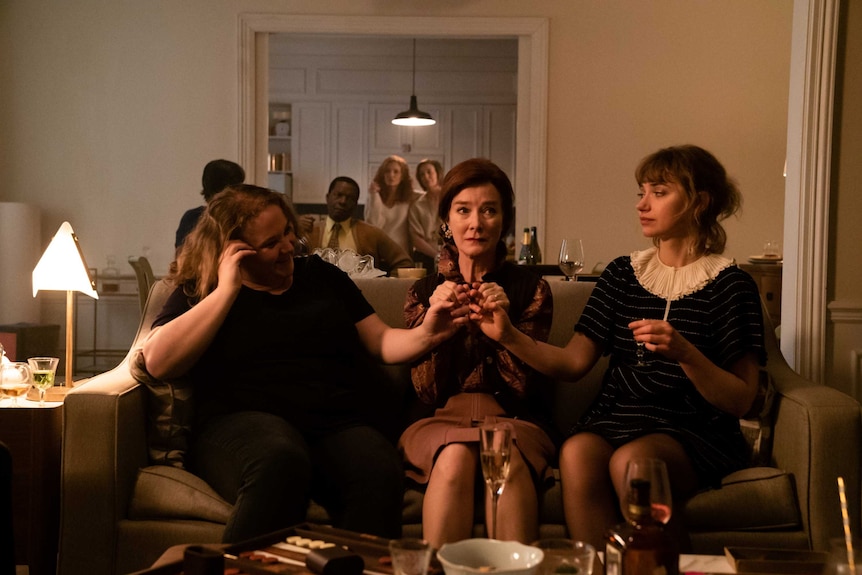 It's when the movie draws focus from its central pair, and Frances in particular, that it flails.
At some point, Patrick deWitt's screenplay, adapted (and presumably compressed) from his novel of the same name, decides to pile on the complications, and the effect is merely distracting.
Small Frank's sudden disappearance prompts Frances to hire a local private detective (the great but underused Isaach de Bankole) to locate Madeleine, so that she might telepathically communicate with the missing feline. Soon the modest apartment is crammed with a gallery of busy character-sketches that might be lifted from a stage play — including Susan and her new fiance, an amusingly douchey Daniel Di Tomasso, and the disembodied voice of Tracey Letts as Small Frank, beaming in via seance.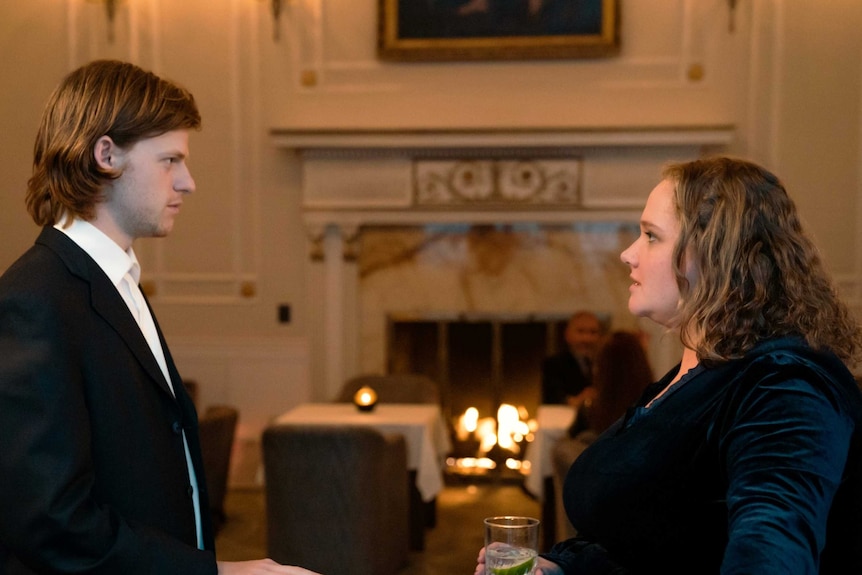 This mess smothers the film's better narrative instincts, but it can't quite unmoor the fascinating ambiguity of Pfeiffer's performance.
To its credit, French Exit doesn't pretend to push poignant reflections on age and wisdom; if anything, Frances seems more and more like a lost child grown weary of the adult shell she's been inhabiting, and maturity comes to resemble a pretence that crumbles over time.
It's a pleasure to see a career flash across Pfeiffer's performance, to watch that face that moves so expressively from a sunny smile to a Valley Girl eye roll to an unhinged cackle, and to understand that — like so many of her best roles — Frances is a drifting soul who can barely hold it together under the glamourous facade.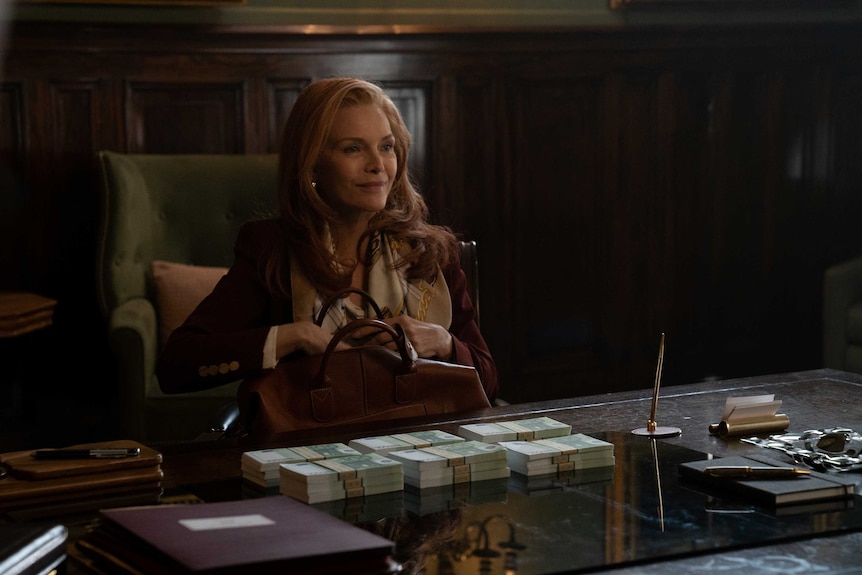 There's also something bittersweet, almost haunting, about French Exit, a sense of deep displacement — of character, and maybe actress — behind the film's droll comedy and less successful whimsy.
Frances's desire to fade out from a world where she no longer belongs might well be an analogy for many actresses of a certain vintage. And while her reverie for lost glamour doesn't apply to Pfeiffer — who, at 62, is as magnetic here as she's ever been — it isn't hard to find parallels to the actress's willful departure from the industry (the film's image of Pfeiffer, trailed by a spectral cat into the darkness of night, is an unmistakable echo of perhaps her most famous performance).
French Exit doesn't exactly herald a career rebirth, but it's a reminder of the wonders of Pfeiffer's talent, and a tonic for all those frayed blondes and neurotics for whom she'll always be a reigning screen queen.
---
Film Review: French Exit is quirky, controlled chaos primarily designed as a showcase for the glorious Michelle Pfeiffer
Towards the beginning of French Exit, Azazel Jacobs's at once tragic and surreal comedy, Michelle Pfeiffer's initially icy New York socialite Frances Price seemingly mocks the romantic uncertainty of her adult son, Malcolm (Lucas Hedges).  "Menstruating?", she asks when he refuses to divulge any type of answer to his sullenness, confirming screenwriter Patrick deWitt's penchant for almost-derogatory leaning comedy that reveals itself to be far more heartfelt than what it presents as.
Presenting itself as one thing, only to ultimately reveal as another is very much French Exit's mentality, with Jacobs's bleak comedic tone – almost stealth-like in its biting approach – underlying a truly bizarre, almost farcical film that has the audacity to skewer a supernatural element some-halfway through proceedings, and doing so in an organic approach, no less.
Initially something of a two-hander between Frances and Malcolm, French Exit sets up its eventual titular escape as Frances's dwindling financial situation becomes a bleak reality; "My plan was to die before the money ran out, but I kept and keep not dying, so here I am" is her matter-of-fact response to her worried accountant when he asks what exactly was her monetary plan.
Living a social, widowed lifestyle has clearly caught up with her – we learn that upon discovering the deceased body of her husband (Tracy Letts) she delayed contacting the authorities and went on a brief holiday instead – and instead of doing the responsible thing by foregoing such extravagances and seeking employment (which would appear to be a first for our Frances), she sells what assets she has left and flits off to Paris, dragging Malcolm along for the indefinite hiatus; his own relationship woes with exhausted fiancee Susan (Imogen Poots) clearly not worrisome enough to prevent him from doting.
Once the two arrive in Paris – by way of boat, which in itself displays Frances's care-free nature towards this third act of her life – it becomes increasingly clear that Frances harbours some sort of death wish, and though the Parisian setting brings forth much of deWitt's sharp wit, it's consistently laced with a sadness that is tied to Frances's own personal struggles.
Whilst we await the film to adopt its ensemble comedy mindset, much of French Exit (if not all, really) is designed primarily as a showcase for the wonder that is Pfeiffer, the actress doing so much with the simplest of words, those pursed lips and a steely gaze; all three of these working in perfect unison in no better moment than when Frances, confused as to why she and Malcom are the only guests at a so-called New Year's Eve party, quietly, yet sternly asks "What the fuck is going on here?".
Though the film delights in all of Pfeiffer's nuances, its decision to gradually become something of a collaborative effort furthers its strength as both a showcase for the actress and a situational film, one that embraces its absurdities and treats them as rather customary.
The Parisian apartment that was to play house for the gradually disconnecting Frances and the cautiously purposive Malcom soon becomes the playground for a host of offbeat characters, all of whom similarly chew on deWitt's dialogue and spit it out with aplomb.
In addition to the concerned Susan and her new beau (Daniel di Tomasso), there's Joan (Susan Coyne), the owner of the apartment, and Frances's closest friend, who rushes to her side after receiving an apparent suicidal postcard that Frances wasn't even aware was sent; Madeleine the Medium (Danielle Macdonald), a genuine psychic who enjoyed a night of drunken debauchery with Malcolm aboard the ship over ("the fucked witch", Frances so graciously refers her as); a kind-natured private investigator (Isaach De Bankolé), hired by Frances to find Madeleine in Paris pertaining to her potential knowledge of finding Frances's missing cat, Small Frank (the feline earning its own bizarre storyline that, again, manages to present as alarmingly accepted); and, perhaps most memorably, Madame Reynard (Valerie Mahaffey, a Best Supporting Actress contender, if ever there was one), a self-proclaimed fan-girl of Frances' who essentially appoints herself as Frances's best-friend following the aforementioned New Year's Eve "party".
Controlled chaos would be the best manner to describe what Jacobs achieves, and not just when all these characters come into play.  A quirky mix of naturalism and surrealism is ultimately what French Exit leans into, the type of film that Wes Anderson, Noah Baumbach and Woody Allen would've adapted, with deWitt's deliberate writing creating a type of matter-of-factness around the most elevated comedy that, whilst consistently hilarious, ironically never plays as heightened as may be expected; Malcolm so gingerly asking Frances to "look in the freezer" upon finding an icy, penis-shaped dildo in Madame Reynard's fridge feels like a build-up to a comedic set-piece (and, in a lesser film, would have been), whereas we instead get a simple, rather somber conversation about the phallic-shaped device and what it is particularly used for; "Why would you want it cold?" is Frances's burning question.
Distinctly unique as it is, French Exit's comedic constitution won't ultimately resonate with everyone. However far removed the narrative and characters appear though, the underlying heartbreak and the film's depiction of craving human connection lends it a universal appeal that deserves to be enthusiastically embraced.  Of course, if nothing else, the film should be enough of an excuse to want to spent 110 minutes with the glorious Pfeiffer, the Oscar-deserved performer graciously yet incongruously devouring the surroundings with an unashamed glee that so few of her peers have the nuance to execute with subtlety.
FIVE STARS (OUT OF FIVE)
---
French Exit sends Michelle Pfeiffer into the Parisian night
Azazel Jacobs's deceptively light adaptation of Patrick deWitt's satire follows Pfeiffer's wasp-tongued exiled widow Frances and her grown son (Lucas Hedges) on a redemptive search for her late husband in the body of a cat.
A bracing satire of haut bourgeois decadence, Azazel Jacobs' French Exit, adapted by Patrick deWitt from his comic novel, depicts the waning days of the jaundiced socialite Frances Price (Michelle Pfeiffer), a spiritual cousin of Blue Jasmine's fallen Manhattan brahmin. Accompanied on an ocean liner by her grown son Malcolm (Lucas Hedges) and their cat Small Frank, the near-bankrupt Frances leaves New York for France to avoid the derision of those she once terrified with her soignée imperiousness and devastatingly insouciant put-downs.
Jacobs' films habitually elicit the potential of alienated characters, easing them toward (re)adjustment: the regressive thirtysomething father in Momma's Man, the overweight youth in the deWitt-scripted Terri, the unhappily married middle-age couple shocked by rekindling their passion in The Lovers. Late in French Exit, Frances washes the dishes in her and Malcolm's borrowed Paris apartment. Having never done a day's work, she is virtually redeemed by doing such an everyday chore.
She is also humanised by her anxious search for Small Frank. Named after her late husband Franklin and harbouring his spirit, he has fled fearing Frances will strangle him. She contacts him through the clairvoyant Madeleine (Danielle Macdonald), with whom Malcolm slept on their dreary Atlantic crossing. Small Frank (voiced by Tracy Letts) complains he's infested with fleas and worms. Jacobs delivers the scene with deadpan aplomb, rendering its unreality ambiguous.
Their conversation partially assuages the guilt Frances feels for leaving the newly expired Franklin in their Upper East Side brownstone some ten years previously (20 in the novel), scandalously going away for the weekend without notifying the authorities. Pfeiffer plays Frances with a thrilling blend of languor and mordancy, but whenever her misdemeanour is mentioned she betrays fear it was an act of madness. She shields herself by visiting contempt on others, such as Mme. Reynard (Valerie Mahaffey), the lonely, good-natured fellow exile who seeks her and Malcolm's friendship. Frances's apology to her is the first sign she's capable of humility.
As deWitt's postmodern western novel The Sisters Brothers was a gift to Jacques Audiard, so French Exit was to Jacobs with its deceptively light descriptive prose and droll dialogue – Frances and Malcolm's Noel Coward-like ripostes indicative of her delusional belief in her superiority and his disaffection. Indulging existential ennui, they find their Parisian experience an agitating rite of passage. French Exit becomes increasingly foreboding, despite the story's farcical turns and the laidback classical-style score composed by deWitt's younger brother Nicholas.
The film's present is bookended by flashbacks to when the widowed Frances collected adolescent Malcolm (Eddie Holland) – cruelly rejected by Franklin – from his boarding school, insisting they'd be happy together. The codependency that evolved over the next decade cost Malcolm agency. When Frances tells him they're moving to France, he automatically abandons his fiancée Susan (Imogen Poots), though their mutual love proves resilient.
Jane Austen's novels similarly précis their protagonists' family histories to establish their current fraught situations. Austen is in the details here. Frances may be nothing like her orphaned namesake in Mansfield Park, but both – Malcolm, too – are victims of neglect. Unloved when she was married, Frances is so terminally depressed she vows to die once she and Malcolm have spent the money she made selling her house and art. She speeds the process by leaving enormous tips and proffering wads of notes to homeless Parisian men – one scorning her condescension.
Moodily etched by Tobias Datum's low-lit photography, Frances and Malcolm's Paris escape is enlivened – and her icy hauteur thawed – by the oddballs who move in with them, including Mme. Renard, Madeleine, Susan, and the affable detective Julius (Isaac de Bankolé) hired to find Small Frank. It's for this surrogate family that Frances does the washing up. Too little too late – the nocturnal shot in which she recedes from the foreground as she wanders a cobbled street in search of Small Frank, unaware he's following her, intimates she's incapable of subduing her demons. Ironically, that may spell liberation for Malcolm.
---
'FRENCH EXIT' RESEMBLES A TRANS-ATLANTIC 'ARRESTED DEVELOPMENT''
In deadpan funny 'French Exit' Michelle Pfeiffer and Lucas Hedges play a mother and son stubbornly resistant to the real world.
Azazel Jacobs' French Exit tells you everything you need to know about its heroine in one early, seemingly throwaway scene. Strolling through Central Park with her son Malcolm (Lucas Hedges), Frances (Michelle Pfeiffer) spots a homeless man. She pulls on her cigarette and eyes him not with compassion or contempt but with a curiosity that she extends to almost no other human in the entire film.
After he introduces himself as "Dan" she promotes him in response to "Daniel". This is a woman who would rather not live in a world with such dull and unmemorable names as Dan. Given this, and added to her having just been told the river of wealth that has sustained her languorously luxurious life is almost dried up, her quietly self-destructive behavior takes on a darker though still comedic hue.
Based on Patrick DeWitt's novel, French Exit is rife with some of the same chipper bad behavior and troubled familial relationships as DeWitt's The Sisters Brothers (2018). But instead of sibling hitmen doing dirt around the Old West, this story follows a mother and son with no sense of how to live in the world or how to relate to the people who keep tagging along. They can afford to do this because Frances' years-dead husband Franklin (Tracy Letts)—whom Frances refers to, somehow not unkindly, as "an emotional moron"—left them a pile of money and very few pleasant memories as reasons to mourn his passing.
When the film begins, Frances has just about used up the money and is told she needs to sell everything. That leaves her with the sole recourse of leaving New York to live in her friend's Paris apartment with Malcolm and a fast-dwindling stack of euros.
Living in high befuddlement in Frances' shadow, Malcolm (played by the usually higher-strung Hedges in a more bumbling Steve Zahn register) appears to be of post-college age but with as little interest in starting a career or engaging with the grubbier aspects of life as a cat would have in starting a hedge fund.
They have a close but not entirely healthy bond. Theoretically, he's engaged to be married but thinks nothing of breaking up with his fiancée Susan (Imogen Poots) the second Frances moves them to Paris. Malcolm has little of Frances' yen for dramatics—annoyed by a rude waiter, she calmly sets a restaurant centerpiece on fire—but shares her unconscious confidence that no matter how much he holds himself apart from the world, it will all eventually come to him anyway.
The earlier, New York-set scenes entertain primarily because of Pfeiffer's serenely assured turn as the high-society diva who sneers at the word "sensible" as though it were a curse. Once the story relocates to Paris, though, the blithely Arrested Development-esque familial dysfunction takes a welcome turn to the absurd.
A fortuneteller briefly absconds with Malcolm's easily-won heart. Seances are involved. A cruise-liner doctor informs Malcolm that "two bodies a day" are "standard for Atlantic crossings." Small Frank, the black cat who came with Malcolm and Frances from New York, may in fact contain the consciousness of the human Franklin. Jacobs handles the implausibilities and widening circle of characters with a low-key comedic panache that suggests a less visually fussy Wes Anderson.
The story isn't particularly engaging, focused primarily on the increasingly inexplicable attempts of Frances to blow through their remaining money and her small circle of acquaintances' concern over that behavior. But as the narrative advances, it adds a series of secondary characters until the mother and son's charming Parisian flat is crammed with various friends, the fortuneteller, Susan and her new fiancé, and Julius, a laid-back private detective (Isaach De Bankole) who seems interested in hanging around just to see what happens with Frances and her bridge-burning campaign.
Anyone taking Julius' approach to French Exit is likely to be satisfied with the result, even with the admittedly unimaginative finalé. Anyone else may as well be named Dan.
---
Review: In 'French Exit,' Michelle Pfeiffer and Lucas Hedges are lost souls looking for a lost cat
The misadventures of the eccentrically wealthy may not exactly fit the mood right now, but the new "French Exit" is so genuine in its mix of arch and earnest, idiosyncrasy and earthiness that it creates a space all for itself.
Directed by Azazel Jacobs from Patrick DeWitt's adaptation of his own 2018 novel, the movie is rife with melancholy and whimsy, existing in a hermetically sealed world of privilege that everyday reality only occasionally punctures. Yet the movie still manages to create an emotional tug, an overcast feeling of loss, that makes it difficult to dismiss.
Frances Price (Michelle Pfeiffer) has nearly exhausted the fortune of her late husband, Franklin (Tracy Letts), the unusual circumstances of his passing having made her something of a social outcast. Her son Malcolm (Lucas Hedges) is torn between pathological loyalty to his mother and the anxieties of making a life of his own, wearing out the fraying patience of his fiancée (Imogen Poots). And then there is the family cat, Small Frank, within whom the spirit of Franklin seems to reside.
Frances drags Malcolm to Paris via cruise ship with an oversize handbag stuffed with all the cash they have and an open-ended invitation to stay in a friend's apartment. Except Frances seems to be plotting something, even if that something is just a vague idea to simply die when the money runs out. And so she keeps spending, apparently planning the French exit of the title to leave without saying goodbye.
The movie comes alive once they get to Paris, as Frances and Malcolm pick up people around them like strays — a lonely widow, a private detective, a cruise ship psychic and others — all tasked with finding the lost cat (and the lost soul trapped inside it), missing from the Paris apartment. The supporting cast of Valerie Mahaffey, Isaach de Bankolé, Danielle Macdonald and Poots all do well in capturing the strange world of the movie while also giving it an emotional grounding.
In one of the film's earliest scenes, as Frances begins to explain to Malcolm that they have become insolvent, Pfeiffer is in a darkened kitchen ominously and absent-mindedly sharpening a knife. The movie really belongs to the steely character of Frances and Pfeiffer's delicately beguiling performance as a woman pushing the world away. As she has grown older, slipping in and out of the spotlight at her discretion, Pfeiffer has become a more enigmatic performer, capable of the combination of glamour and grit that made her a star, but with added underpinnings of sadness and the unexpected, of a life lived.
For a woman concerned that her life has amounted to nothing, that she has done nothing, Frances' final act is to assemble a makeshift alternate family around her son, a bustling menagerie of oddballs to keep him occupied and give him direction. The search for the lost cat, for meaning and love in a dreary, stifling world, was not for nothing after all. The cat finds her.
---
La Pfeiffer Is a Widow on the Verge in 'French Exit'
Azazel Jacobs' likably odd French Exit is headlined by the sharpest Michelle Pfeiffer we've seen in years, in a role so handsomely form-fitted to her talent, style, and attitude, it's as if the movie had been written with that distinctive curl of her mouth, that magnetic chill of hers directly in mind. The movie — adapted by Patrick deWitt from his 2018 novel of the same name — is a tale about a classic, monied, New York City eccentric, the kind of person whose status is as obvious, in their utter aloofness to the world, as it is mysterious. Summing this up, somehow, with wonderfully caustic poise is Pfeiffer, who plays Frances Price: a widow on the verge — of going broke.
And also of dying. These things are directly linked — but you'd probably have to be as rich as Frances is, or rather was, to relate. It's a matter of lifestyle, you see. Frances' husband, Frank, died some years ago, and, well, there was only so much money left in the coffers (read: quite a bit, actually) for his family to live on thereafter. Now, Frances and her adultish, unlucky-in-love son Malcolm (Lucas Hedges), have few options, all to the tune of sell it all, a purge about which Frances is remarkably ambivalent. Frances either wants or plans, perhaps even prophesies, her death, which so far as she's concerned will arrive when she's completely out of money. Yet she also has a funny way of wasting what little money she has: overtipping, giving wads of money to the unhoused in Central Park (though not out of charity, exactly), making a getaway trip to Paris to either live it out or, if her insistent whittling-away of her funds is any indication, not.
She wastes, and wastes away, on purpose — and her husband's death in itself, the desensitizing shock of it, plays no small part in that erosion. And so … to France? It's the trip overseas and the life awaiting them there that give the determined Frances and the rudderless Malcolm things to do, worlds to discover as, internally, their senses of themselves get scattered somewhat to the wind. This is the raw material, the backbone, of a movie that in so many ways hangs loose, swinging easily between grief and oddity in Jacobs' spry, adaptable hands.
There's plenty to say about the movie that's better left to the film to reveal on its own — the significance of a certain cat, for example. The movie teeters on the edge of an uncertain reality, with mystical touches that draw it aloft and human ones that bring it back down to terra firma. It's a film that sails, primarily, on the quality of its interactions, particularly between Frances and other women, like the great Valerie Mahaffey as Madame Reynard, who initially embodies what might possibly be Frances' worst nightmare — a fan — and the equally wonderful Susan Coyne, as Joan, the closest thing imaginable to a genuine friend. The scenes with these women draw Frances, and Pfeiffer, out beyond the sense of caricature that the movie knowingly evokes. Madame Reynard is particularly useful here. Where her grief is like an open-faced sandwich, all gooey and stacked with ingredients and melting affect, Frances is far more guarded — until Reynard reminds her of her own brazenness.
These counterpoints make the difference. Frances is otherwise the kind of person to casually enjoy the sound of a knife being sharpened, the kind of person to enunciate the word "insolvent" with such grim assurance that you're almost tempted to be jealous of her situation. And Pfeiffer is the kind of actor to make such moments make sense in a movie that persistently veers toward softly mystical known-unknowns, quirks of the sort that make you wonder if these people are genuinely strange or if it's money, in fact, that makes them so. Pfeiffer somehow pulls of the pure fun of the role, chewing scenery with the utmost etiquette, leaning into the humor of the mere idea of her character, while also rending the woman's emotional reality into something both plausible and pliant. 
What winds up being strange, then, is that French Exit often feels so sleepy (not always intentionally, bourgeois ennui being what it is) but often with the sense that the filmmakers have gotten a little lost in the sauce. The film's second half — after the chance meeting with the psychic (a fun Danielle Macdonald), after the semi-mystery of the cat resolves itself, after an unwitting Isaach de Bankolé finds himself enmeshed in this story — doesn't quite keep the volley going, doesn't quite match the interpersonal dynamism of its opening half. It's a movie suffused by the kind of inward-looking mysticism that only money can buy, and the kind of grief that money can't save you from.
Yet even a story as attractively unusual and unpredictable as this can fall prey to the quicksands of convention and lifeless resolution. Smudges of poor writing (particularly for Imogen Poots, who plays the maybe-fiancee of Malcolm) are in part to blame for this. There's a words-escape-me, tingling, offbeat something about this movie that reels you in — a something dimmed, maybe, by the brunt of the film so clearly guiding us toward this impression. Once it gets there, it doesn't quite know where to go. Wit gives way to enervation. Frances, dead or alive, has spark to the very end. But by then, so far as the movie's concerned, she's on her own.
---
REVIEW: French Exit – Michelle Pfeiffer & Lucas Hedges propel a mismatched cast of oddballs in a great film
She's not like us.  According to literature and film, she exists, but I have never met anyone like her.  Then again, her financial status ensures we do not share the same air too often.  She was famous among Manhattan socialites for being odd.  She was both part of their club, but not in it.  She didn't play their games – she was above them.  Little is known of her early years, but it's an educated guess she was born into wealth and married for money.  There is no explanation how she can be wantonly cruel to her fellow man one second, and magnanimous the next.  She may have all the reasons in the world to act so nonchalant and float through life with a superior aura of condescension and ennui, but we don't know them.  French Exit isn't about how she got here, it's about how she wants to go out.
I adore screenplays like this.  It's full of conversations you and nobody you know will ever have, but you wish you could play along.  Supporting characters, only necessary for a scene or two, linger on far past their given utility.  They are enjoyable side dishes taking up table space long after the waiter should have spirited them back to the kitchen during a previous course.  Azazel Jacobs's French Exit is absurd and it knows well how absurd it is.  It dares you to point it out.  Why would you?  Why interrupt a ride this interesting?
When one says they are going to Paris tomorrow, you envision airports.  Do people still take boats across the Atlantic?  When is the last time you heard of a fortune teller giving someone bad news?  That's not how the game is supposed to go.  All of this is way before we learn the cat contains the consciousness of the dead husband, Frank.  The money is gone.  Practical financial planning was too banal a task for Frances (Michelle Pfeiffer, Ant-Man and the Wasp).  Thoughts of budgets and income vs. outflow would almost remove her head from the clouds for a moment.  What does a woman who has never worked a day in her life and wanted for nothing do when the last of it is stacked up in Euros in a Parisian apartment closet?  Well, they need a private investigator to track down the ship's clairvoyant.  They need her to find Frank…the cat.  He ran away.
Observing all of this, usually stoic and numb, is Malcolm (Lucas Hedges, Boy Erased), the son who at one point is called out for exactly what he is – playing adult and hoping nobody notices how empty he is inside.  Malcolm left his fiancé back in New York, but invites her and her new paramour to Paris where they both show up at the same time as everyone else.  This would be too made-up for slapstick in other hands.  In writer Patrick DeWitt's hands, adapting the screenplay from his own novel, the plot keeps us guessing.  There is a most unconventional mother-son relationship; often Malcolm is more parental than Frances.  There is also a coming-of-age story, but it's not Malcolm's.  His mother, however, appears to be morphing from a certain immaturity into another mental state.
Jacobs and DeWitt worked together on 2011's Terri, another tale of outsiders, but on the opposite end of the social spectrum.  DeWitt is a master at writing deadpan.  Terri was the Sundance version of that while his script for 2018's The Sisters Brothers had outlaws in a western, a different genre setting to be sure, deliver the same type of skewed banter.  Pfeiffer's Frances is akin to her far more stark turn in 2017's Where is Kyra?, following a woman from an even lower caste than Terri, but experiencing a similar downward progression as Frances.  French Exit emits such a unique, idiosyncratic charm because DeWitt's script is borderline screwball.  There is no way to guess which road he turns down next, but there is nowhere else you will want to be as he takes you there.
The Frances and Malcolm duo expands quickly in Paris to include the fortune teller, a widowed sycophant enthralled with Frances, the private investigator, an old friend, and Malcolm's ex-fiancé and her new fiancé.  These characters have no reason to exist together, but in its alternate universe sort of way, it works.  Jacobs and cinematographer Tobias Datum opt to shoot this now crowded cast in a wide anamorphic frame ratio of 2.35:1.  This style offers context to the shot; there's the background and the sense of space each character inhabits at the moment.  It's more than possible that it's Frances's innate personal magnetism which gathers such an ad hoc, hodgepodge coterie of characters, but whatever brings them all together in this apartment out of time, notice there are no cell phones or computers, it is top-tier storytelling.
---
Michelle Pfeiffer Shines as Distressed Diva in Quirky Comedy French Exit 
We'll always have Paris.
Those famous, memorable words come from the movie Casablanca, the 1942 classic in which ex-pat American Rick (Humphrey Bogart) tells his former lover, the beautiful Norwegian Ilsa (Ingrid Bergman), farewell in the final scene, on a fog-blanketed airport tarmac as she prepares to board a plane. He reminds her that even though World War II will separate them, likely forever, they'll always have the memory of the brief time they spent together, in the most romantic city in the world.
Ah, Paris—yes, it's the setting of hundreds of stories, movies and flights of imagination. The City of Light, the Louve, the River Seine, Moulin Rouge, the Eiffel Tower, sidewalk cafés, berets, baguettes and cigarettes. It's where Meryl Streep masters cooking in Julie and Julia, Tom Hanks first cracks into The Da Vinci Code, streets get folded up like origami in Inception, and Fantine dreams a dream in Les Misèrables.
And in the tony, high-society comedy of manners French Exit, it's where a snooty widow, Frances Price (Michelle Pfeiffer), moves when she burns through all her money in New York and has nowhere else to go.
Based on a 2018 prize-winning novel by Canadian author Patrick deWitt (who also wrote the screenplay), the title is an expression that means an abrupt or hasty departure.
When her financial advisor informs her that she's completely drained all the liquidity in her late husband's lavish estate, in which she's been living, he asks about her plan. But Frances doesn't really have one. "My plan was to die before the money ran out," she drolly answers. "But I kept not dying, and here I am."
And she can't stay where she is, so she sells all her personal belongings and packs up her young-adult son and dependent, Malcolm (Lucas Hedges). Where to go, what to do? Thank goodness her one good friend, Joan (Susan Coyne), offers her the use of her fully furnished apartment in Paris. Ah, the largess of the very rich!
But before they depart, Malcolm has to break the news to his already-impatient fiancé (Imogen Poots), who doesn't exactly get more patient when he tells her that he has no idea when—or if—he'll be coming back.
On the not-so-luxurious cruise to France, Malcolm has a fling with Madeline (Danielle Macdonald), a young woman working onboard as a fortune teller, who claims to have a special knack for detecting the presence of death. That aptitude doesn't exactly make her popular among the cruise's geriatric set, but something about the black cat Frances has smuggled aboard intrigues her; probably because Frances believes that her late husband, Mr. Frank (Tracy Letts), has been reincarnated in the sleek feline, Small Frank.
In Paris, Frances and Malcom meet some other colorful oddballs, including Mme. Reynard (Big Sky's Valerie Mahaffey), a delightfully daffy, upbeat fellow expat with a self-gratification secret hidden in her kitchen freezer; and a private investigator (Isaach De Bakolé) Frances hires when Small Frank goes missing. Eventually, all the characters—including Malcolm's stateside fiancé and her new/old boyfriend, the fortune teller and Frances' friend, Joan—converge in the apartment's cozy living room for an extended encampment and existential banter about mortality and mysticism. There's also some soul searching, a bout of arm wrestling and a séance. It turns out Mr. Frank isn't too happy about being a cat.
Pfeiffer, a dependable movie presence since the early 1980s, shines anew in this regal return to a headlining role as a grand-dame diva now a bit faded and fallen on hard—if highly unusual—times, but vamping it up royally as she's going down. Hedges—so strong in Manchester by the Sea, Boy Erased, Lady Bird and Three Billboards Outside Ebbing, Missouri—provides a droll but muted counterpart to his leading lady's colorful centerpiece as a woman in her mid-60s facing, and eventually embracing, this new chapter in her life.
As her stack of Euros dwindles in the closet, this isn't so much her second act, or even her third, Frances tells someone. It's "the coda," she says, the conclusion.
The movie makes the most of its location. Malcolm tools around the streets of Paris on a red bicycle; Frances sips coffee and smokes at an outdoor café, her face breaking into a wistful, melancholy smile as she watches schoolgirls playing and singing on the sidewalk across the street; she and Malcolm give a snooty French waiter some comedic comeuppance. Even the homeless man with whom Frances shares an orange, on a park bench outside her apartment—the whole interaction is so…so genteelly Franco. As in most movies that put down roots there, Paris becomes a character in itself, a mood, a feeling, a nearly tactile, tangible presence.
Sharply comedic, quietly quirky, magically beguiling and endearingly odd, French Exit makes the point that there are some things that money can't buy, like friendship, family can be maddeningly messy, and relationships are the most valuable currency of all, anywhere.
And when the money's gone, the coda's finished playing and it's all over—well, like Bogey says, we'll always have Paris.
---
The delightfully offbeat French Exit offers Michelle Pfeiffer her best role in ages
Mike D'Angelo | AV CLUB
"Ah, to be young-ish and in love-ish," sighs Frances (Michelle Pfeiffer) toward the beginning of French Exit. She's mocking the romantic vacillation of her adult son, Malcolm (Lucas Hedges), but those qualifying suffixes aptly describe the movie itself, which isn't so much absurdist as it is absurd-ish. That's not meant as derogatory. Working from a screenplay by Patrick deWitt, who adapted his own 2018 novel, director Azazel Jacobs (Terri, The Lovers) has crafted a uniquely offbeat, almost stealthy comic tone, ideal for a story with a rather bleak (though not necessarily unhappy) ending. What's more, the film keeps casually mutating throughout—a supernatural element emerges roughly halfway through, treated as quite ordinary by everyone on screen, and what seems for a long time to be a maternal two-hander eventually expands into a full-fledged, rowdy ensemble, with new characters showing up at the door even as someone attempts to catalogue those who are already present. It's a restless portrait of a bizarrely aimless woman.
Frances is also a very wealthy woman, albeit not for long. A dozen years after the death of her husband (Tracy Letts, seen in one quick flashback and heard…well, we'll get there), which she was arrested for failing to immediately report, she's informed by her accountant that the bank technically owns everything she has left, and is about to collect. Rather than give up her extravagant lifestyle and get what would be her very first job, Frances accepts an invitation to move into a friend's Paris apartment, dragging Malcolm—who's been struggling to break the news of his engagement to Susan (Imogen Poots)—along for the indefinite ride. Accompanying them for the transatlantic journey (Hedges has spent a lot of time on ships recently) is the family's black cat, which bears the unusual and eventually significant name Small Frank. Frances converted most of her assets into cash before departing, and seems determined, once in Paris, to spend this still sizable but by no means inexhaustible nest egg as speedily as possible.
That's about all there is in the way of narrative (as opposed to incident, of which there's plenty), though it becomes increasingly clear, as the film goes along, that Frances harbors some sort of death wish. For a while, French Exit serves primarily as a magnificent showcase for Pfeiffer, who's been on a tear since re-emerging four years ago (in Mother! and Where Is Kyra?) and makes a hearty meal of this willful eccentric. Her Frances is the sort of woman who puts topspin on every sentence she speaks and has three extra facial expressions for any occasion; Pfeiffer can do wonders with a single word, as when Malcolm asks his mother whether he can ask her a "very dramatic question" and gets a hilariously dramatic "Yes" in reply. Hedges wisely stays out of her way, offering his best impersonation of a human doorknob, though Malcolm proves crafty enough to win Susan back from a rival by deliberately losing an arm-wrestling match with the guy multiple times, thereby prompting her concern for his bruised knuckles. Being tended to, one gathers, isn't something with which this timorous young man has had a whole lot of experience.
Part of what makes this film special, then, is the way that it gradually assembles a family of sorts around Malcolm, without ever suggesting that Frances does so intentionally or that this collection of friendly strangers (plus Susan) can plug the hole that she's about to create in his life. By the end, that Paris apartment also plays host to its owner (Susan Coyne), who shows up in response to a suicidal postcard that Frances didn't even intend to mail; Madeleine the Medium (Danielle Macdonald), a genuine psychic with whom Malcolm had a fling on the ship (and to whom Frances keeps referring as "the fucked witch"); a private investigator (Isaach de Bankolé), hired to find Madeleine the Medium in Paris because Frances believes she can help them locate Small Frank, who's run away; Susan and Susan's new boyfriend (Daniel di Tomasso), with the latter eager to challenge Malcolm and not shy about expressing a desire to murder him, though he assures everyone that he won't act on that; and, best of all, Madame Reynard (Valerie Mahaffey, perhaps best known for her ER guest role facilitating George Clooney's very American exit from that show), a fellow expat who lionizes Frances and more or less applies to be her new best friend.
Jacobs manages this controlled chaos with a dexterity and brittle artificiality that's quite distinct from all of his previous films. As comedy, it's not to every taste—when French Exit had its world/virtual premiere at last year's New York Film Festival, reviews (including that of our own A.A. Dowd) were decidedly mixed, with many complaining that the film lands in an unsatisfying middle ground between Jacobs' usual relaxed naturalism and the formally aggressive quirkiness of a Wes Anderson or Aki Kaurismäki. For those on its wavelength, however, the matter-of-fact presentation of odd behavior gets funnier and funnier, even as Frances' intentions walk an uncomfortable line between inspirational and disturbing (leaning more toward the latter). You either laugh or you don't when Madeleine the Medium makes contact with Frances' dead husband via a séance and his spectral voice, flickering a candle's flame, sounds exactly as it would were he still alive and grousing from his favorite easy chair. Or when Malcolm looks in Madame Reynard's freezer and discovers, for some reason, an ice-shrouded, penis-shaped dildo, then tells Frances to go look in the freezer (without telling her why), clearly anticipating a shocked or amused response, but instead gets silence followed by a sober discussion regarding exactly what the purpose and function of a dildo even is.
Apparently, deWitt (whose earlier novel, The Sisters Brothers, was likewise adapted into a film, though not by him) decided that the ending he wrote for the book wouldn't work on screen, opting to fashion something a bit more ambiguous. It's still pretty clear what's going to happen, though—a reaction shot of Madeleine the Medium toward the end says it all—and acknowledging the aftermath would be dramatically untenable. To solve this problem, the movie circles back, for its epilogue, to a brief prologue set a dozen years earlier, when Frances suddenly withdraws Malcolm from the boarding school where she and her husband had selfishly parked him for most of his childhood. This stratagem doesn't really work, because the scene's two parts (at beginning and end) merely glance at the genesis of a semi-toxic mother/son relationship, raising ugly questions that the film, at least, just doesn't have time to answer in sufficient depth. Nor does the final exchange between them have any mysterious revelatory force, as does, say, the flashback ending of Exotica. At best, there's a symbolic moment involving the removal of a tie. Since the phrase "French exit" means to leave without saying goodbye, though, perhaps such an anticlimax is only appropriate.
---
Michelle Pfeiffer, Unheralded Comedy Maven
In her new movie, "French Exit," Pfeiffer shows us what we've long taken for granted about this immensely intelligent Oscar nominee.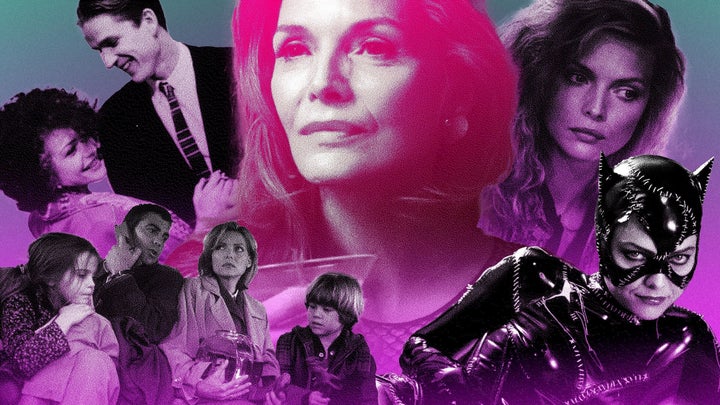 In one of the funniest scenes in "French Exit," Michelle Pfeiffer sharpens knives. Playing Frances Price, a high-handed Manhattan heiress who'd hoped to expire before her finances do, Pfeiffer stands alone in a dim kitchen, gliding a blade across steel. Frances' emotionally stunted adult son, Malcolm (Lucas Hedges), flicks on a light to find her there, red wine nearby. At first it's the echo of the knife-scraping that's funny. But Pfeiffer, giving the most imperious performance of her 42-year movie career, harnesses the moment for more. "I just like the sound it makes," Frances tells Malcolm. Pfeiffer closes her eyes as if listening to a Mozart opera.
Pfeiffer is one of the great comedic actors of our time, though she is rarely recognized as such. Her early-'80s rise to fame started slowly ("Grease 2," "Scarface") before exploding like a supernova thanks in large part to two very different comedies: 1987′s "The Witches of Eastwick" and 1988′s "Married to the Mob," both of which maintain cultural footprints today. She wasn't whetting knives in either — those characters don't share Frances' frosty remove — but the movies still manage to end where "French Exit" begins, with Pfeiffer trampling the nuisances that surround her.
In "Eastwick" and "Mob," those nuisances were men. In "French Exit" (due out Feb. 12), they're everything. Frances' disdain has no limits. She's a socialite who resents socializing. She has a tart worldview, a caustic wit and a late husband whose soul may or may not have lodged itself inside a black cat named Small Frank. Pfeiffer grants Frances a snobbish breathiness that signals privilege. This is someone to whom humility is foreign, even when an accountant informs her she has drained most of her inheritance and risks going broke. The soft smirk affixed to Pfeiffer's face throughout the movie, which chronicles Frances and Malcolm's escape to Paris, is as informative — and humorous — as any line of dialogue. (Patrick deWitt adapted "French Exit" from his 2018 novel of the same name, with Azazel Jacobs directing.)
Often you can tell when serious actors are trying to be funny. Not Pfeiffer. Subtlety has always been one of her virtues. She mixes in just enough exasperation to let the humor speak for itself. And in crucial moments, Pfeiffer levels Frances' over-the-top narcissism with a delicate melancholy.
Perhaps that explains why, despite three Oscar nominations and glowing reviews from critics, she has always seemed a bit underappreciated by the broader public. Throughout the '90s and 2000s, Pfeiffer lacked Julia Roberts' box-office clout, Whoopi Goldberg's agreeable zaniness and Meryl Streep's much-endorsed gravitas. She doesn't wink at the audience like Robert Downey Jr. But unlike them, Pfeiffer's magnetism never overwhelms the movies she's in. Even when she is the most talented person on-screen (and she usually is), she still allows room for the ensemble to shine.
The roles she took during this period — as well as the many she turned down ("Pretty Woman," "The Silence of the Lambs," "Thelma & Louise," etc.) — prove there is no fixed idea about what Michelle Pfeiffer can do. She appeared in deliciously dark blockbusters ("Batman Returns," "What Lies Beneath"), mainstream crowd-pleasers ("Dangerous Minds," "One Fine Day," "Hairspray"), genre-curious oddities ("Wolf," "To Gillian on Her 37th Birthday") and sweeping romantic dramas ("The Age of Innocence" opposite Daniel Day-Lewis, "Up Close & Personal" opposite Robert Redford).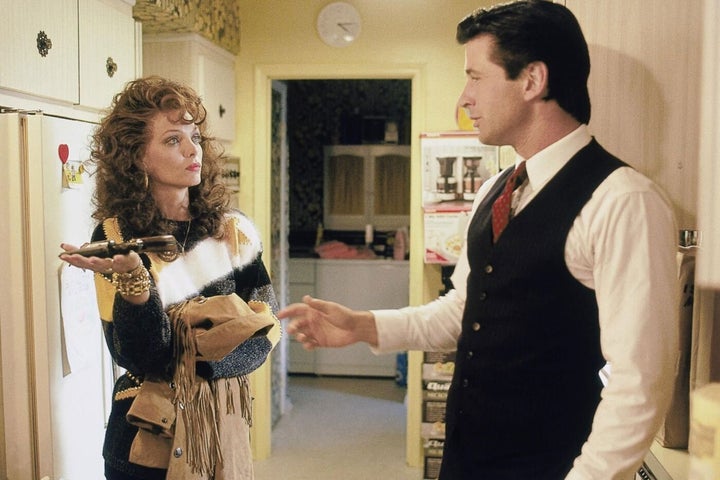 Even when she's playing a supposed enchantress, as in 1989's "The Fabulous Baker Boys," arguably her richest work, she has an accessibility that defies easy assumptions. Pfeiffer doesn't seem to know she's a movie star, letting her undeniable glamour feel more cozy than aspirational. When she first shows up in "Baker Boys," her character, Susie Diamond, is 90 minutes late for an audition to be the titular lounge act's singer. The guys (played by Jeff and Beau Bridges) try to turn Susie away, lecturing her about punctuality in show business. "This is show business?" Susie taunts, Pfeiffer grimacing as she scans the dingy room and proceeds to shed her coat despite the brothers' dismissal. Just like that, with one droll expression, Pfeiffer has won us over. (Her gum-smacking helps, too.) And yet she does so without bulldozing her co-stars or positioning herself as some sort of diva to be reckoned with — a foundation that pays off later in the film when Susie reveals her working-class vulnerability.
Pfeiffer's vocal dexterity is on full display in "Baker Boys," and not just when she's singing "Makin' Whoopee" atop a piano. She knows how to stretch out a sentence so its rhythm sounds improvisational, which is key during monologues about Susie's life struggles that might otherwise feel overcooked.
The tempo of her line readings reached new heights when she played Catwoman in 1992's "Batman Returns." It's hard to pinpoint what makes a big-screen supervillain so electric — some aren't — but the alchemy of Pfeiffer's performance transcends the Mae West scenery-chewing that inspires most comic-book scoundrels. Pfeiffer toys with her words as if they're playthings. Daniel Waters' script gave her a litter's worth of zingers, and she finds a different inflection for each. After transforming from hapless Selina Kyle to diabolical Catwoman, she puts a sensual pause in the line "I don't know about you, miss kitty, but I feel … so much yummier."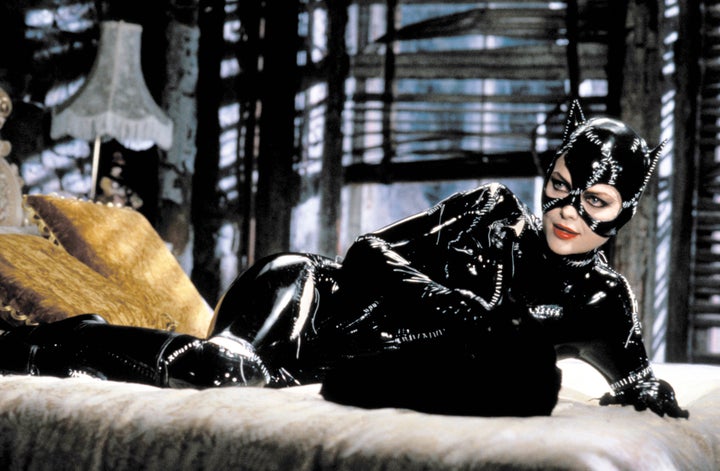 Think of the scene where she slinks through a department store, whip in hand, looking feral and unflappable. Upon encountering Batman (Michael Keaton) and The Penguin (Danny DeVito) outside, Catwoman backflips toward them, strikes a pose and gets no reaction. So Pfeiffer lowers her arms, rolls her eyes without actually rolling them and offers a flippant "meow" before the building behind her explodes on cue. It's amusing because it conveys so much personality with such precise timing.
Male journalists — and some women, too, including New Yorker critic Pauline Kael, who once called Pfeiffer "paradisically beautiful" — were practically obligated to comment on her appearance, not too dissimilar from the ones who'd written about Marilyn Monroe, another great comedic talent, decades earlier. They somehow seemed surprised that someone so attractive could display so much intelligence. In 1988, despite telling an Interview reporter that she thinks she looks like a duck, the magazine headlined a profile of Pfeiffer "Blond Venus."
Even though she's a former beauty-pageant winner, Pfeiffer never let radiance become her characters' identifying trait. As the decade waned, Pfeiffer's films didn't set out to reinforce or deconstruct her persona the way so many of Roberts' or Meg Ryan's or Winona Ryder's did. Portraying a vexed '60s housewife in the 1992 racial melodrama "Love Field," Pfeiffer's husband (Brian Kerwin) tells her she only admires President John F. Kennedy because he "looks like a movie star," implying Pfeiffer can do nothing more than idolize such elegance. In the charming 1996 screwball rom-com "One Fine Day," she's an architect who's clumsy without succumbing to the cute-but-doesn't-know-it quirkiness that haunts the genre.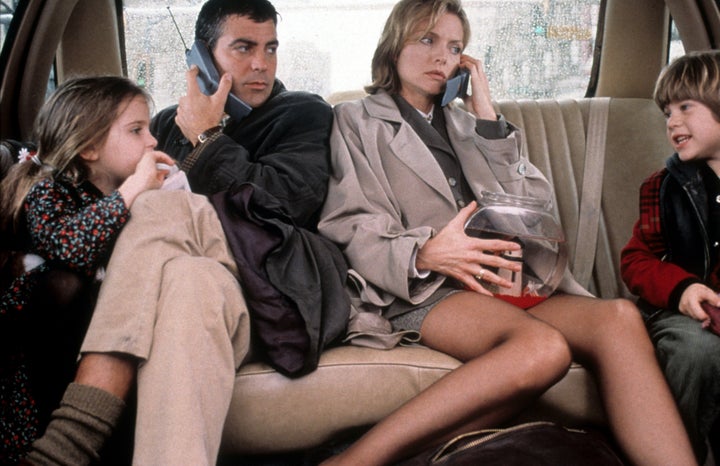 Frances in "French Exit" would be the closest Pfieffer has come to reprising the vampy turpitude of "Batman Returns" were it not for "mother!," 2017's polarizing psychological-thriller-cum-biblical-allegory. (She's pretty saucy in that year's "Murder on the Orient Express" remake, too, but the film surrounding her is best left unaddressed.) Pfeiffer had become choosier about projects in the 2010s, and the adult movies on which she built her career were being swallowed up by kiddie franchises, as evidenced by her recent appearances in "Ant-Man and the Wasp" and "Maleficent: Mistress of Evil." Her "mother!" role was small but vital.
The Darren Aronofsky-directed film is a stealth farce, and Pfeiffer plays an interloper who unleashes her selfish impulses all over a young woman's (Jennifer Lawrence) nice house. Again, Pfeiffer mines her physicality for laughs. She knows exactly what kind of movie she's in, even if audiences didn't quite grasp what kind of movie they were watching. When an earnest Lawrence says she doesn't have the painkillers Pfeiffer has requested, Pfeiffer taunts her the way a tipsy aunt might. "Are you telling me the truth?" she coos with a "your secret's safe with me" mien. It plays like a devilish come-on.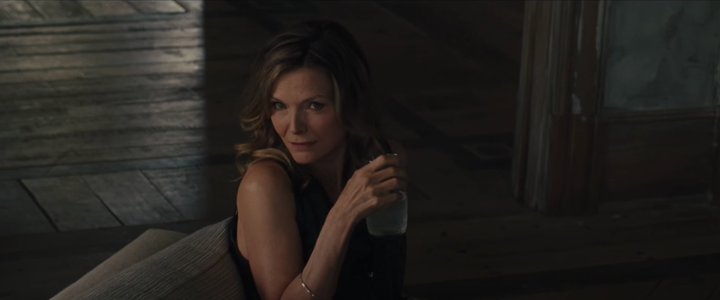 Believing that a movie star who obviously looks like a movie star doesn't walk around feeling like a movie star is essential to his or her ability to play people who seem real. Pfeiffer is one of Hollywood's best examples of this. She's not exactly tabloid-proof — her liaison with John Malkovich during 1988's "Dangerous Liaisons," for example, was primo gossip fodder — but Pfeiffer was protective enough to ensure her celebrity wouldn't subsume her work. That meant she never needed low-hanging self-referential humor to be funny.
And now we get the funniest Pfeiffer to date. She must have had a hell of a good time smartassing everyone around her in "French Exit." At 62, she's certainly earned the right. Like the characters in "The Witches of Eastwick," "Married to the Mob," "The Fabulous Baker Boys" and "One Fine Day," Frances understands that modern customs tend to be defeating. Those other women weren't ready to give up, but she is.
When Frances gets done sharpening that knife, she informs Malcolm of their bankruptcy. Pfeiffer exaggerates every syllable in the word "insolvent," stabbing the air around her. When she accidentally hurls the knife at her son and cracks up laughing, we realize Frances is despicable. But as the movie continues, that gentle melancholy sets in. The heartache in her eyes becomes more notable, even when she's issuing put-downs. The Price family's disaffection grows somber, softened by Malcolm and Frances' strange bond. Pfeiffer's smirk turns into a smile, and suddenly Frances isn't so inhuman after all.
That is the power of Michelle Pfeiffer. She finds humor in bleakness and bleakness in humor. She turns whatever she's doing into a Mozart opera.
"French Exit" opens in New York and Los Angeles theaters Feb. 12 in order to qualify for this year's Oscars. It expands nationwide April 2. A video-on-demand release date has not yet been announced.
---
"[Michelle] Pfeiffer gives her [character] this depth in her chaos that is far more than a wild woman, but a deeply broken, lonely, and fearful person."
Frances (Michelle Pfeiffer) is a flailing socialite, trying to squeeze out her dwindling inheritance for her remaining years. Her son, Malcolm (Lucas Hedges), loyally remains by her side as this already destructive woman begins her hurricane of a spiral.
"French Exit" (2021) is a simultaneously both a slow-burn and a chaotic film. The chaos inherently comes from Frances, a woman of great privilege, who likes her way of living but also sees it as an albatross of sorts. Meanwhile, she has the strangest relationship with her son: Malcolm is endlessly loyal, even ruining his own engagement to Susan (Imogen Poots) by fleeing to Paris with his mother. In some instances, it is heartbreaking to see these two characters stuck in their devotion to each other, enmeshed and unable to break apart.
"Even with Frances's privileges and wealth and cushiony life, you cannot help but be drawn into this character. Pfeiffer gives her this depth in her chaos that is far more than a wild woman, but a deeply broken, lonely, and fearful person."
The slow-burn comes from the inevitable end for Frances – I won't be spoiling it, precisely, but once you see the opening cue card, you'll know the journey you are about to embark on. It is like watching a car crash in slow motion. You know the shoe is going to drop, you just don't know when or how or the ripple effect.
The film hosts some incredible performances. Hedges is endearing as Malcolm. You get to understand this man is simply a young boy wanted to be loved by his emotionally-belligerent parents. Meanwhile, Valerie Mahaffey gives my favorite performance as neighbor Madame Reynard, a widow longing for companionship. Mme. Reynard is kind and lonely, and rather than turning inward like many of the other characters, she seeks companionship. Mahaffey allows for Mme. Reynard to sometimes be the voice of the audience when the film gets a bit wacky. I think the twists in this film are very unnerving in some cases and wildly entertaining in others, so I don't want to spoil too much, but I will say that there's a crazy cat and a séance.
"French Exit" also proves that Pfeiffer is one of the best actresses working today. We certainly do not appreciate her enough or give her the roles of substance she deserves. Even with Frances's privileges and wealth and cushiony life, you cannot help but be drawn into this character. Pfeiffer gives her this depth in her chaos that is far more than a wild woman, but a deeply broken, lonely, and fearful person. Frances knows how to survive, but there's a darkness within that tugs at her. She never knows when or how that darkness will engulf her. Pfeiffer makes it very clear that we will never fully know Frances, but that we should take the glimpses of what she gives us the attention they deserve.
While the film holds some incredible performance, it also tends to be a bit long. The dialogue is stylish but can be a bit standoffish. It felt like an old film, and while there were times that felt magical and whimsical, some moments were a bit alienating. The film is based on a book – and written by the author (Patrick deWitt). Part of me wonders if so much of the original material made it onto the screen and if that is why it felt a bit scattered and lofty at times. Regardless, the film is impressive with its twists and turns, with allowing its actors to give you some top-notch performances, and a score by Nicholas deWitt (elder brother of Patrick) that is to die for.
4 Stars
---
Pfeiffer's trademark icy charisma sits at the heart of French Exit. She's mercurial to the extreme and utterly free of inhibitions.
SYNOPSIS: A previously wealthy widow and her son travel to Paris with the last of their money, and the cat whose body she claims her husband occupies.
Highbrow quirk is an interesting thing. From its elegantly barbed dialogue to the piano-heavy strains of Nick deWitt's gentle score, Azazel Jacobs's drama French Exit meanders along in a soup of classy, well-acted silliness. It's not ground-breaking by any stretch, but the likeable material is elevated to a higher level by a tremendous late career performance from Hollywood powerhouse Michelle Pfeiffer.
She portrays widowed socialite Frances, who leaves New York City for Paris with the last of her money, having sold almost all of her belongings amid financial turmoil. Along for the ride is her son Malcolm (Lucas Hedges) and their cat Small Frank, which Frances believes houses the soul of her late husband. The boat ride over the Atlantic brings them into the path of medium Madeleine (Danielle Macdonald), who allows mother and son to communicate with their departed family member.
Pfeiffer's trademark icy charisma sits at the heart of French Exit. She's mercurial to the extreme and utterly free of inhibitions. In one scene, she's discovered sharpening a knife in the dark while a dispute over a restaurant bill leads to her starting a fire in the middle of the eaterie. The genius of the performance, though, is in the sadness Pfeiffer finds below the surface. Her facade is that of an untouchable enigma, who doesn't care much about anything, but Pfeiffer's careful look of constant scrutiny belies a mind struggling with far more turmoil than Frances would like to admit.
The leading lady sucks up a great deal of the real estate here, but Lucas Hedges finds room to deliver another of his twitchy youngsters. His relationship with his sort-of-fiancée – played by Imogen Poots – is fascinating in its awkwardness and certainly could've stood to receive more of the movie's focus. Hedges also gets intriguing scenes with Macdonald, who was so brilliant as the star of 2017 comedy Patti Cake$, but again the film seems to consider their connection to be simply an excuse for more quirk. Ultimately, both characters exist to fulfil Pfeiffer's arc.
French Exit is best when Jacobs leans in to the odder aspects of the story, adapted by Patrick deWitt from his own novel. Valerie Mahaffey stands out as fellow émigré Madame Reynard with a sweet-voiced turn as a woman desperate to befriend Frances, whom she idolises. A comic interlude in which Frances and Malcolm discover a sex toy in her freezer is delightfully strange, but these moments are sadly few and far between. The same is true of the moments in which Small Frank is able to communicate with his family via séances and using the voice of Tracy Letts. It's a fun device, which the film never quite pushes to its logical conclusion.
But this is the Pfeiffer show and she's simply terrific from start to finish. At just 62, she likely has a lot of career to go, but French Exit is a statement performance from an actor at the top of her game. It's a crowded field for Best Actress at this year's delayed Oscars and spots will be at a premium. However, only a fool would bet against Pfeiffer smoking and sniping her way to the stage of the Dolby Theater. The film is forgettable, but its leading lady is anything but.
3 Stars
---